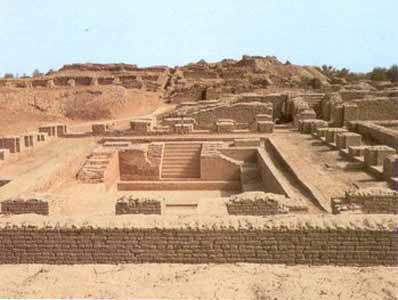 Once upon a time there was a civilization along the Indus River. We know it from the ruins of hundreds of cities found up and down the river and in parts of India and Pakistan. The cities feature neatly laid-out streets, efficient drainage systems, impressive public buildings–obviously a highly-sophisticated civilization. It must have been the home of millions of people, long ago: people who had writing, standardized weights and measures, painting and sculpture, and foreign trade by land and sea.
They must have had rulers, generals, poets, scholars, architects, merchants, priests and gods, and all the rest. But we don't know the name of even one person who lived in that civilization. Not one.
We can't read their writing, not one word of it. We don't know what they called themselves. We don't know what they named their cities. We know nothing of their gods, or their beliefs. Had archeologists not dug up their cities, we would not know that they had ever been there.
These people were contemporary with civilizations in Egypt, China, and Mesopotamia. Unlike the others, the Indus Valley civilization sank into an oblivion so total that it might as well never have existed at all.
What happened to it?
We don't know, and probably we'll never know. But we can speculate.
Ancient Hindu legends seem to hint that Aryan invaders conquered and destroyed the Indus Valley cities. But archeologists have been unable to find any evidence that any of the cities suffered the ravages of war. Nor have they found any evidence of plague, catastrophic drought, etc.
Did God erase them from history because of some sin so monstrous that it could not be recorded?
Did they reach a point in their history when they came to doubt the goodness of their own country, and to despise themselves?
Did their leaders pursue policies so ruinous, so absurd, as to leave their civilization with no witness but its own deserted cities?
Pray we don't wind up the same.