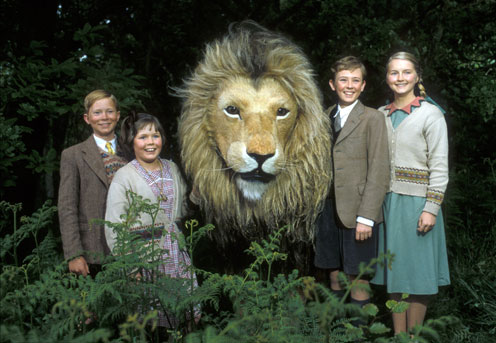 Not for the first time, and I hope not for the last, I've begun to watch the old BBC-TV production of C.S. Lewis' Chronicles of Narnia.
So far I've seen and reviewed all the new Narnia movies–and this old production from the 1980s runs rings around them. Yes, some of the costumes and special effects are primitive, even a bit silly–no fancy computer graphics, back then. But it doesn't matter! These old shows captured the spirit of Narnia; and the new movies, for all their expensive and up-to-date production values, do not.
There's plenty of good acting in the movies, and wonderful camera-work; but the writing is strictly third-rate. The movie-makers made any number of ridiculous decisions. It would be hard to say which was worst. Trying to turn Prince Caspian into a smouldering hunk? Turning Susan and Lucy into warrior princesses? Presenting Reepacheep as a kind of furry Bart Simpson? Or rewriting the whole doggone story, as they did with Voyage of the Dawn Treader? I find the effect of the beautiful cinematography of these films soon wears off, but my distaste for the multitude of follies still lingers.
Watching the old BBC version of The Lion, the Witch, and the Wardrobe, I was struck by how Peter (Richard Dempsey) starts out as a high-handed little prig who never loses an opportunity to lord it over his younger brother, Edmund (Jonathan Scott); and by Edmund as a nasty little piece of goods, sly and smarmy and totally self-centered. Their experiences in Narnia–most importantly, their coming to know Aslan, the Great Lion, Lewis' fantasy avatar for Our Lord Jesus Christ–change them to the core. The real Peter emerges as a merry, brave, and great-hearted boy on his way to manhood, while the real Edmund shows sober, wise, and courageous: he, too, will grow up into a great man.
But what stirred me most, as it always does, was Aslan himself. When Peter is knighted and blessed by Aslan, I could almost imagine what bliss it would be for me, if I could kneel before Christ, and lay my eyes on Him, and receive His blessing in person. It stirs me just to write about it.
And that most of all, I think, is what C.S. Lewis had in mind.
PS–You can get these old Chronicles via amazon.com.