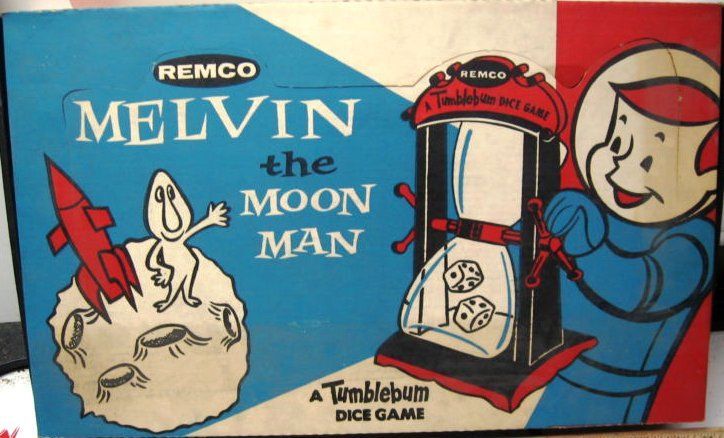 Before the advent of video games featuring blood and guts flying all over the screen, children had to be content with benign, peaceful, harmless games–like this one.
Remco put out "Melvin the Moon Man" in 1959, and it was a hit. My parents got it for us for Christmas, and it was simple enough for all three of us to play: my sister, age 4, my brother, 7, and me, 10. If we had had a cat, he probably could've played, too.
You spin the handle of the unique Tumblebum dice glass (that, and the colorful graphics, were the game's big selling points), and your plastic Spaceman traveled around the United Craters of the Moon collecting Moonbucks. The one with the most Moonbucks wins. No tactics or strategy involved. Just follow the map according to the roll of the dice.
I don't know what Melvin cost in 1959, but it's selling on eBay today for up to $150. In 1959 anything over $5 was a major expenditure for my father which my mother would have to weigh carefully. They really must have loved us to buy us silly stuff like this.
And that's what makes this memory so sweet.