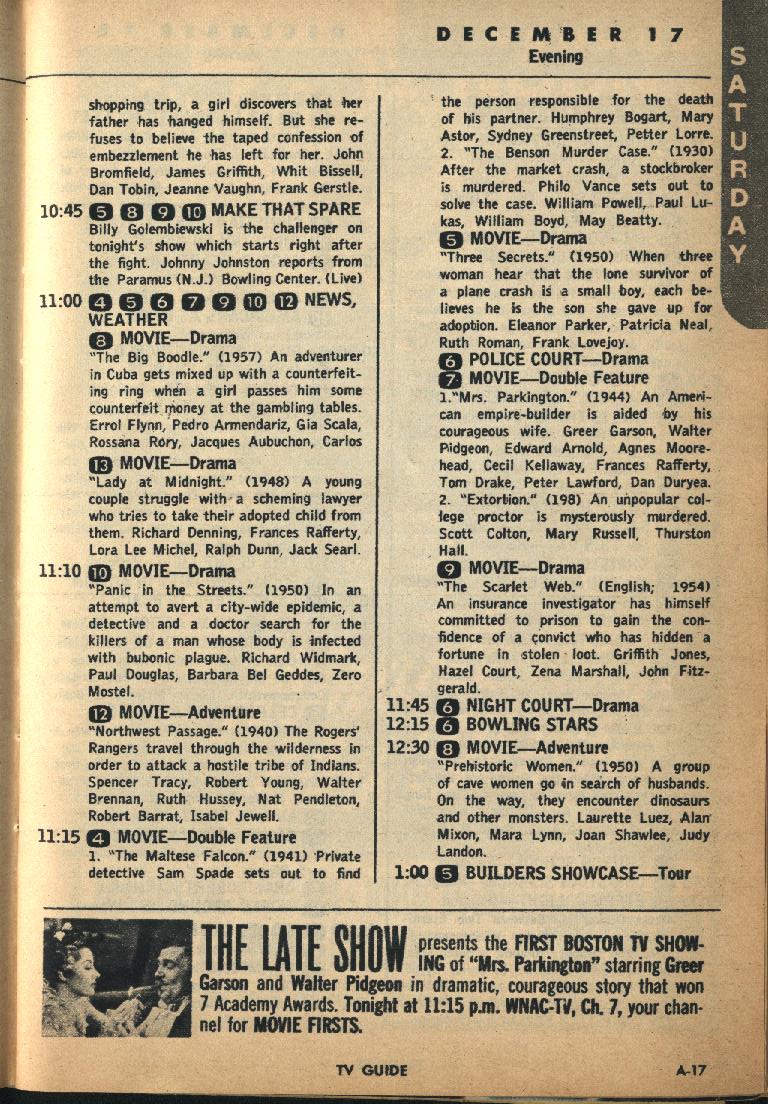 G'day! Welcome to another weekend of Quokka University TV, live from Rottnest Island. I'm your host, Byron the Quokka. We always show a TV Guide page to get you cranked up for our offerings. I do wish I could watch Make That Spare, from the Paramus NJ Bowling Center–and Prehistoric Women! Uncle Shinbone thinks it might be the best movie ever made.
Well, here are some of our listings. Sit back with a handful of nice chewy leaves, and enjoy it!
8:14 P.M.   08, 09  HOWLER MONKEYS (Nature). A glorious 28 minutes of Costa Rican howler monkeys screeching at the cameraman, the late Ivan Pitfall.
8:15  11  Barney Dottle, Police Defective (Crime Drama) Barney thinks he's hot on the trail of a desperate gang of armed robbers, but his continual misinterpretation of clues leads him to arrest the attendees of a PTA meeting. Barney: Jack Palance. Mrs. Dogless: The Lennon Sisters.
12  Movie–Classic Tragedy
"The Naked and the Clothed" (1957) The Bowery Boys are caught napping when Nikita Khrushchev, posing as just another neighborhood character, tricks them into revealing America's funniest military secrets. Leo Gorcey, Huntz Hall. Khrushchev: Himself. Timon of Athens: Tim McCarver.
13  Battle of the Brains–Public Affairs
Pinky Lee hosts a debate between former U.S. Senator Biff Boff and Rep. Rosie Hejaz on the topic, "Should prayer be allowed in churches?" With Willie Sutton and his orchestra, and the June Taylor Dancers.
8:32 P.M.   03  Bowling For Dear Life–Sports/Drama
If you really need that medicine, you'd better bowl a strike! Up for grabs tonight: life-saving medicine, parole from Chateau D'If Prison, ownership of a home, graduation from law school, and other goodies. Join host Willis Twombley  as he reminds the contestants, "No pressure!"
Some readers have complained that they can't trust these TV listings unless my picture is published with them. So that's me, right up there–and it's TV time!