G'day, G'day–and what is so rare as a day in June? And I'm Byron the Quokka, with the answer: some of these long-lost TV shows are even rarer! But we've rescued a bunch of them, just for you. For example:
3:56 P.M.   Ch. 08  NEWS IN A HURRY–News & commentary
It's the same news you get at 6 o'clock, only they get it all done in just four minutes. Ideal for the viewer who wants to get the news but has't got half an hour to devote to it. The tape is speeded up, so be prepared to listen fast! Anchor: Irwin Corey.
4 P.M.   Ch. 10  YOU CAN FLOSTICATE!–Educational (sort of)
Little-known outside of pro baseball, Arnold Kopplo was the uncrowned King of the Flosticators. Nothing else could have kept him going through 10 years of hitting under .200 and getting booed and assaulted by fans. Now his flostication secrets can be known! Host: Rusty Gates. Medium: Madame Mabel Sweeny.
Ch. 14   DEEP PHILOSOPHICAL MUSINGS–Pretentious twaddle
Dr. Frank Nodule, Last Chance University, tackles a thorny proposition: "Every person has the right to be served by servants and it should be government policy to see that this is so." Voice of Opposition: A sane person drafted off the street. Panel of Judges: the June Taylor Dancers. ("Who will serve the servants' servants?")
4:30 P.M.   Ch. 29   MOVIE–Musical, uh… comedy
In Hold That Coccyx! (Ethiopian, 1954), Bob Hope and Max Von Sydow are chased through Foki Forest by Ethiopian bandits led by Hugh Beaumont. Music by Chiang Kai-shek and his orchestra. Hit song (Hope and Sydow), "Aaagh, It Only Hurts When I Sit Down!" Directed by Joe Garagiola.
Ch. 44   THE COODY FAMILY–Sitcom with tragic overtones
The only tragedy is that this bomb got made in the first place! This week: Jimmy Skull-Splitter (Dick Cavett) tries to muscle his way into an Icelandic saga; but only Aunt Club Moss (Jane Austen) can tell him how to find his way out of the house. Captain Ahab: Gregory Peck. Smiling Clump of Broccoli: Emma Bovary.
Well, folks, is that great programming, or what!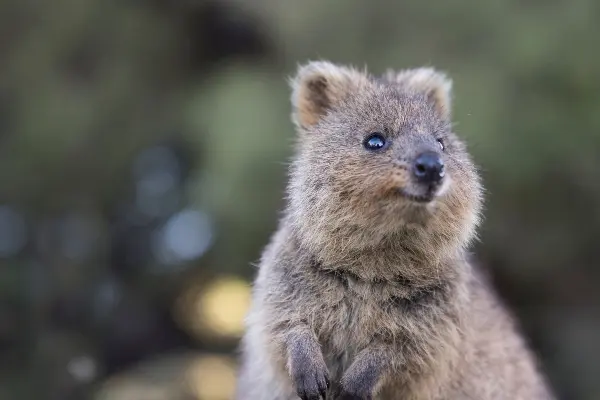 Byron the Quokka, signing off