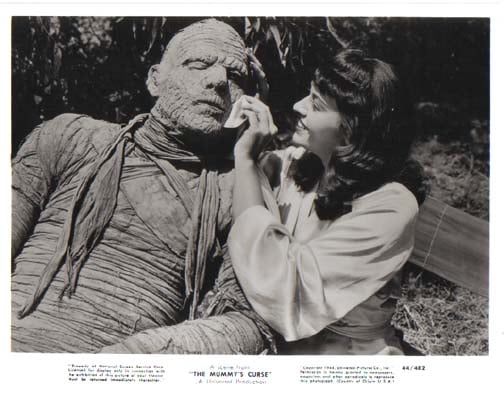 Unwinding from a more than usually stressful week, my wife and I resorted to one of our favorite movies–The Mummy's Curse (1944).
You know what's really cool about this movie? Virginia Christine's performance as "the Princess Ananka." Try to forget that the screenplay makes no sense whatsoever.
Ms. Christine had a very long acting career in movies and TV. If you're old enough, you probably know her best as "Mrs. Olsen" in a bunch of Folger's Coffee commercials. The role of Princess Ananka came quite early in her career, and she just blew the doors off it. Hey, the whole movie's only 61 minutes long. It's worth seeing just to watch her first scene.
Yes, I know the storyline of the mummy movies sometimes lapses into incoherence. When we last see them, before this movie, the Mummy and his hapless reincarnated princess are getting sucked into a bog somewhere in New England. In The Mummy's Curse, the two of them emerge from the mud in Louisiana. If you can explain how that happened, you need to apply for a job as a presidential press secretary.
Anyhow, it's all in fun–and I don't think you have to worry about this movie scaring you to death.