So far, 11 Oregon counties have voted to secede so they can join Idaho… and Democrats are getting nervous.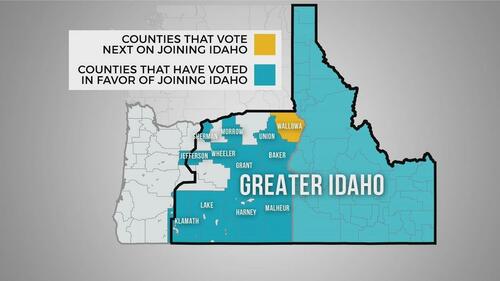 The chart tells the story.
Even in elections won by Democrats, most counties seem to go Republican. It's the big cities, with their Democrat machines, that swing the state the other way.
In Portland, Oregon, for instance, violent crime in 2021 shot up 38%. It's Oregon's major city, and it's a mess. Not so long ago, the "Greater Idaho Movement" seemed like a pipe dream. Now, not so much. Who wants to get dragged down by Portland?
And do we need to add that most people truly, deeply don't like Far Left Oregon school boards' using the public schools to push "transgender." And not let parents know about it until it's way too late.
Democrats seem to be feeling a growing sense of alarm over the prospect of holding only their hollowed-out, high-crime, high-maintenance Blue cities. In a word, they're afraid. And maybe they should be.
Even a small state like New Jersey has Republican counties whose people are sick and tired of being dragged into costly, foolish policies by the Blue cities and their Democrat bosses. Boy, how great it'd be to get out from under that!
It's getting to the point where normal people can't live with insane Democrat policies anymore.
And why should they?