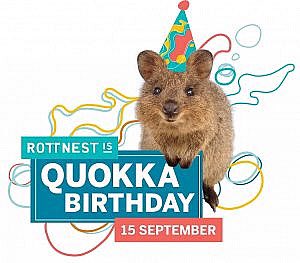 Oh, that guy! Sheesh! He forgot a birthday! And after I wrote down the list for him, too.
So we are two days late (!) for Michele M. Dumas' birthday, which was two days ago and it's all Lee's fault we're late, and this is Byron the Quokka on behalf of all the quokkas on Rottnest Island, sending merriest birthday greetings to Michele!
If you're wonder what that "15 September" thingy is, don't bother, it's just a quokka thing.
Happy birthday to Michele!