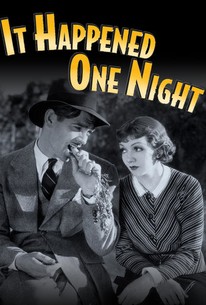 In which Gable eats a carrot… just like Bugs Bunny
Any movie starring Clark Gable and Claudette Colbert, and directed by Frank Capra, has just got to be good! And It Happened One Night is no exception to that rule.
Man, they made some great movies in the 1930s! And this is one of that period's great comedies. Not split-your-gut, roll-on-the-floor funny, but quietly and relaxingly funny–ideal for a weekend afternoon. It's also totally sleaze-free: although if you were ever wondering what happens when "a cold mama gets hot," there's a creepy little man named Shapely who can tell you all about it.
The story centers on a madcap heiress (Colbert) trying to run off and marry a lounge lizard, against her zillionaire father's wishes. The madcap heiress is now an extinct species, although cryptozoologists think there may be one somewhere in the Adirondacks. She takes up with a recently-fired reporter (Gable) who helps her because he thinks he'll wind up with the scoop of the century. Of course they fall in love, but don't worry–it never degenerates into a kissing movie.
Sometimes Capra skates on thin ice over dark tarns of cutesieness, but he never falls in. America in 1934 was still in the throes of the Great Depression, and a very different place from what we're used to. This is also a great slice of life movie: you'll see those differences. When a bus rider literally faints from hunger, that's not something we've seen in our time. The Depression did that to people. But when a whole busfull of riders, who don't know each other from Adam and Eve, while away their long, long journey with a sing-along–y'know, that was good! Wish we could recover things like that. "The Man on the Flying Trapeze" will keep popping into your head many hours after you've seen this movie.
I wouldn't be surprised if many of you have already seen it at one time or another, but don't worry–Capra, Gable, and Colbert never get stale.
Oh! And this may be your only chance to see an autogyro–obsolete predecessor to the helicopter–in action.
Well, waddaya know! They're still making autogyros! Nice, sleek, modern ones–I had no idea. I wonder why they're not more popular than they seem to be. They look like they'd have the advantages of a helicopter but would be much safer. The one in the photo is an old one, about identical to the one used in the movie.