G'day, all! Byron the Quokka here–and we need your views! If we don't get 'em, we'll have to award a degree to Joe Collidge, and Quokka University will be disgraced forever: no more invitations to national Pick-up Sticks tournaments for us. Look, here's a sample of this weekend's TV offerings!
7:37 P.M.  Ch. 91  NEWS WITH GARY THE GHOST–Stupid TV news show
It seemed like a brilliant idea: a nightly news broadcast anchored by a real, live (well, okay, he's not alive) ghost. And it sort of works, if you can put up with the screaming, the moaning, the clashing of chains in the background, and de-materialization when you least expect it. Winner of the Willis Twombley Award for Best News Series Anchored By A Dead Person.
8 P.M.  Ch. 06  BEAT THE CROCK–Game show
Can the contestants solve the rebus puzzle before the celebrity guest gets dunked in a pool of lime Kool-Ade? Host: William Howard Taft. This week's celebrity guest: Wan Fu-Ming, from somewhere in China (emergency replacement for Chuck Connors, who came near to drowning last week).
Ch. 14  MOVIE–Intersectional Non-Binary Horse-S***
In Some Like It Sort of Tepid (Japanese-Norwegian, 1928), the strong man Machiste (Andy Devine) gets more than he bargained for when the June Taylor Dancers (all 16 of them) serve him with a writ for Breach of Promise. Featured Song: "I've Got a Bent Coccyx!" With Ragnar Hairy-Britches and his orchestra.
8:30 P.M.  Ch. 33  BABY-TALK WITH JOEY BISHOP–Talk show
(We can't imagine why this show got cancelled after only one episode! It sure looks like a winner to us.) Host Joey Bishop and his Hollywood celebrity guests spend the whole hour talking to each other in baby-talk! Tonight's guest: Sir Laurence Olivier. "Nice man makey nice movie, snookums!" What's wrong with that?
Ch. 65  HANDS UP! TRICK OR TREAT–Western
Welcome to Frogbreath, Arizona, where every day is Halloween and Sheriff Joe Popstick (Robert Trout) can't arrest anybody because they're all wearing masks and can't be identified! This week: Schoolmarm Belle (Heather Locklear), costumed as Attila the Hun, says someone in an Allen Ludden costume robbed her class's milk money. Popstick goes undercover…
Well, folks, there you have it! What edifying television! A thousand times better than being stuck in college, don't you think?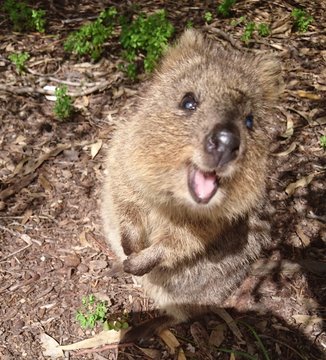 Byron the Quokka, signing off!