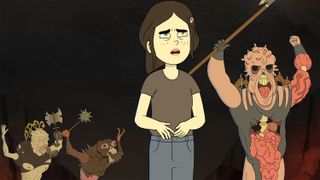 Lots of fun times in Hell!
What's the latest trash-dump for DisneyCorp?
Why, it's Little Demon–animated feature-length cartoon about a teenage girl who discovers her father is Satan… and all the cool stuff that ensues (https://citizenfreepress.com/breaking/disney-embraces-satan-in-new-show-little-demon/). Oh, and she might be the Antichrist.
Does it, like, have to be unwholesome before DisneyCorp will film it? Man, if Walt Disney were still alive today, these jerks would wish their fathers never met their mothers.
Did you know Hell is… kinda fun? I mean, if your father is Satan.
Let's see if they lose money on this caper. It would be really too bad if they didn't.