Happy Labor Day, boys 'n' girls! Byron the Quokka here, with your holiday weekend TV treats brought to you by Quokka University. Here's the merest sample of our menu:
7:30 P.M.  Ch. 08  DRACULA'S KITCHEN–Sort of a cooking show
The Count (Frank Buttocks) demonstrates various Old Country dishes that don't use garlic. Tonight: The "Don't Ask" Special. Parts of the broadcast heavily censored. Igor: Ian McShane.
Ch. 12   NEWS WITH LOTS OF HOWLER MONKEYS–Self-explanatory
Really, you can't hear yourself think! Anchorman Tony Blare has to shriek at the top of his lungs just to get the headlines read. Producer Phylla Basket calls it "part of chaos TV, the next big thing."
I can't quite see the appeal.
8 P.M.  Ch. 21 THE STORY OF DIPHTHONGS–Docu-drama
It's 1878 in Edinburgh, Scotland; and Professor Fergus MacAllistair (Phil Silvers) is about to change world history forever–by inventing diphthongs. Lady Foo: Doris Day. Andy Devine: himself. Queen Victoria: Sharon Stone. Song: "Got No Diphthongs in My Coccyx" (Arlen Spector's Band).
Ch. 40  MOVIE–Shabby excuse for a timely drama
In Happy Labor Day, Comrade (Austro-Serbian, 2006; 798 minutes), a married man (Jiminy Cricket) tries to make his wife (Heather Locklear) believe he's a Skinwalker. The real skinwalkers won't put up with this. Directed by an octopus.
Well, that should get you started, at least! Take a break from horseshoes and chill out with some Quokka U. TV.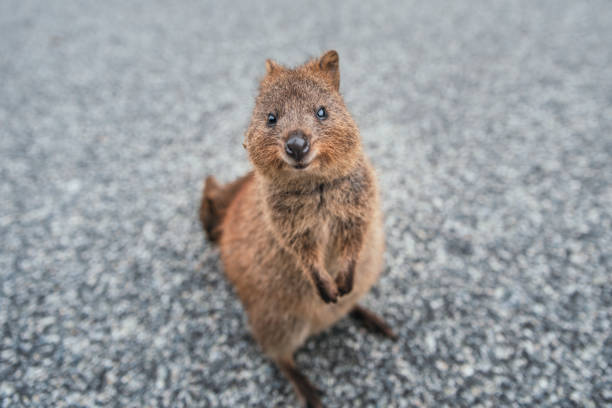 Byron the Quokka, signing off!