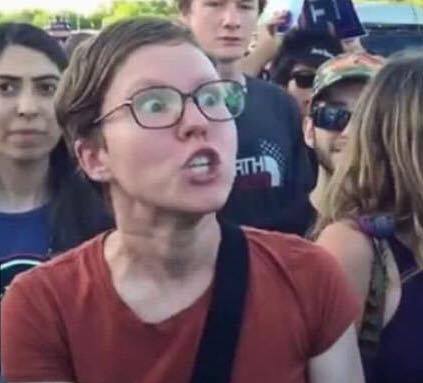 So now it turns out the leftids not only kicked the president's press secretary out of the restaurant, but the crazed owner followed Ms. Sanders' in-laws to another restaurant and "demonstrated" against them there.
Meanwhile, "a senior DHS official" found a "burnt and decapitated animal" left on his front porch one morning (https://fellowshipoftheminds.com/2018/06/25/more-democrat-psychopathy-red-hen-owner-pursued-sanders-in-laws-to-another-restaurant-burnt-decapitated-animal-on-dhs-employees-front-porch/).
According to the crazed owner, the restaurant's crazed employees demanded that Ms. Sanders be kicked out because she works for President Trump, who not only is an evil bad guy for trying to enforce our country's immigration laws, but they were also enraged by his policy of "no transgenders in the military."
They say they're unbearably afflicted by the law that separates illegal aliens from their children when they're caught–although we didn't hear a peep out of any of 'em, the whole time their so-called president was in office, for eight years.
They care so much for children. I guess that's why they kill them in the womb and auction off the body parts. Hey, libs–that's how you care for children?
There might have been young children in the home with the senior DHS official. Some little girl might have opened the door to find a "burnt and decapitated animal" on the porch.
Not one elected Democrat, no, not one, has so much as raised an eyebrow over these quasi-terrorist shenanigans–let alone disavowed it, or condemned it. Not one. We can only conclude that either they tacitly consent to it, or else they, themselves, are by now afraid of the foaming-at-the-mouth lunatics that they've stirred up, and don't dare say a word against them. Or both, maybe.
This is all supposed to win us over for the Big Blue Wave, come November.
The single best thing that can happen to America is for the Democrat Party to be put out of business forever.