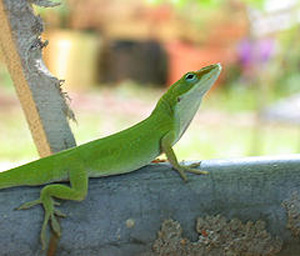 It can't be said my mother liked lizards. Not for all the tea in China would she have handled one. And as for insects, forget about it.
Nevertheless, when I had pet anoles as a boy (inaccurately sold as "chameleons," because they can change color), my mother went out every day with a jar and patrolled our florabunda rose hedge, catching assorted bugs–spiders, leaf-hoppers, caterpillars–to feed the lizards. This I thought was pretty cool.
The instruction book said it would be a good idea to put a piece of cut banana in the terrarium. This would attract fruit flies for the lizards to catch. So my mother did that, too. We never saw any fruit flies, but the lizards would eat the banana.
Later, when I had my iguana, she used to prepare very nice salads for him. So did my wife, and so did my next-door neighbor when we moved into our apartment. He had a personality that made nice women want to feed him.
Ma, you really were cool! And I still miss you.
If they have lizards in Heaven, and I don't see why they wouldn't, I'll bet she feeds them.