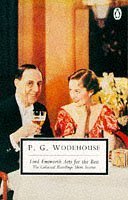 Laughter is good medicine. That's why God gave it to us.
After reporting some of the nooze today, I felt the need to flush my mind–with a good cigar and a Blandings Castle story by P.G. Wodehouse, in a collection called Lord Emsworth Acts for the Best.
These are among the funniest stories ever written, and Wodehouse wrote them for 62 years. The cast of characters at Blandings features the absent-minded Lord Emsworth, master of the castle and all-around fumbler, his tyrannical sister, Connie, his ninnie of a son, Freddie, the monumental butler, Beach, and a multitude of guest stars, each one daffier than the other. Just getting through the day is challenge enough for these people.
Wodehouse, also famous for his Jeeves & Wooster stories, is unique in that there's hardly a single paragraph that doesn't pack at least one laugh line. Lord Emsworth, for instance, hates to dress up: his favorite suit makes him look "like a minor employee with a firm of shady detectives." The earl's wandering mind, if you want to call it a mind, can't keep hold of the thread of any conversation.
But it's futile to try to describe such a heaped treasury of laughter.
There's also a BBC TV series, Blandings, which quite faithfully presents a dozen of these stories in all their glorious inanity. Catch it if you can!
Thanks to the title story, which at one place made me laugh aloud, causing the cigar to fall out of my mouth and onto my lap–quick and decisive action averted a disaster–my mind has been flushed and I'm ready to go back to work typing up chapters of my current Bell Mountain book, His Mercy Endureth Forever.
Thank you, Lord, for P.G. Wodehouse and his preposterous comedies.