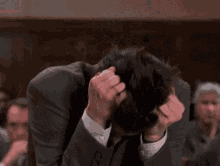 Well! Last night I could easily refer back to anything I'd ever posted here.
And today I can't!
Ya see, WordPress decided to hit its users with some [trumpet fanfare] *changes* that nobody asked for… and it appears those didn't turn out quite as well as expected. Who do they think they are–Congress?
I have been assured that they will try to restore normalcy sometime [another trumpet fanfare] **In The Future**! I know that's supposed to make me feel better, but it doesn't. The future could be, uh, like someday far away when the sun runs out of fuel .
I'm supposed to take my blood pressure in the morning. I haven't bothered to, today. What would be the point?
Well, I guess, *for the foreseeable FUTURE*, I'll just have to remember every cotton-pickin' word I've ever written. That would be easy if I were a hedgehog or an ashtray. As a literate human being who makes his living by writing lots of stuff, not so easy.
Lord, give me strength!