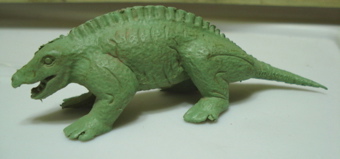 The Marx Toys Sphenacodon. Welcome to the Permian Period. Which is were my Internet seems to be hiding out today.
I want to put up posts, but with my internet access so iffy today, I'm lucky to get away with another paragraph before it conks out on me again. Nothing much to do, really, except sit outside and work on my new book. Longhand, on a legal pad. That usually works.
I wanted to cover a story about Hollywood producers conferring with Chinese Communist Party officials about how to craft their movies so that the Party will approve of them. Is that disgusting, or what? They're literally letting communists micromanage their productions.
There are a lot of people in this country selling us out to China. For money. And because hey, they're all commies anyway.