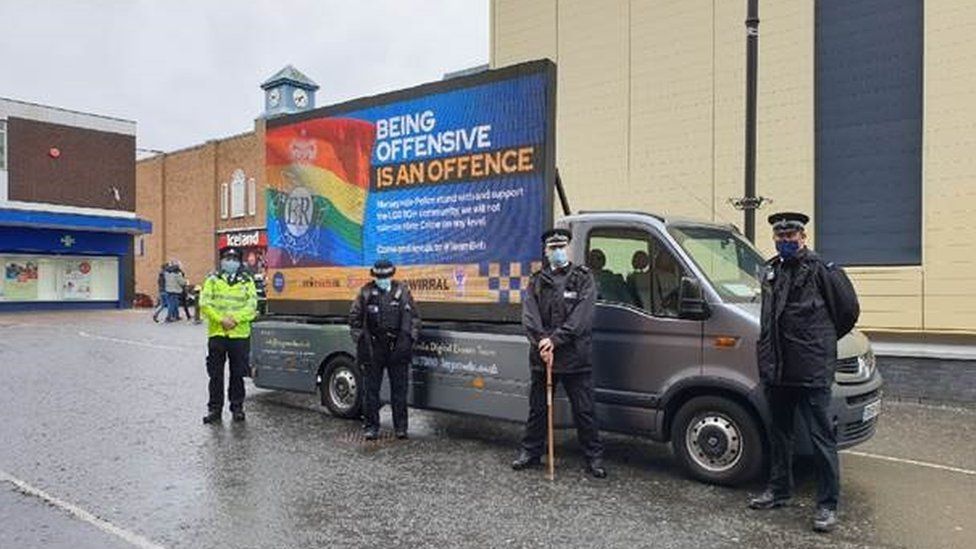 You think our police are mindless servants of the power structure? They've got nothing on the cops in Britain! These guys are Herod's men, right down to the cellular level.
Merseyside police have come under criticism (imagine that!) for their newest "hate speech awareness campaign" (https://freerepublic.com/focus/f-news/3936773/posts). As you know, "hate speech" is anything the Far Left Crazy doesn't agree with.
So, upon receiving a nod and a push from the LGBT "community," the Merseyside cops created a mobile billboard to cart their new slogan around town: "Being offensive is an offense!" And it's got the Organized Sodomy rainbow flag, too.
In fact, there is no such law. Someone's going to be offended no matter what you say or do. You can't have a law against "being offensive" because then everybody would be guilty and would all have to be locked up. On second thought, that's just the kind of scenario that titillates a leftist.
Anyway, the public is more than a little upset by this campaign, likening the Merseyside cops to the North Korean state police… So let's see how long it lasts.