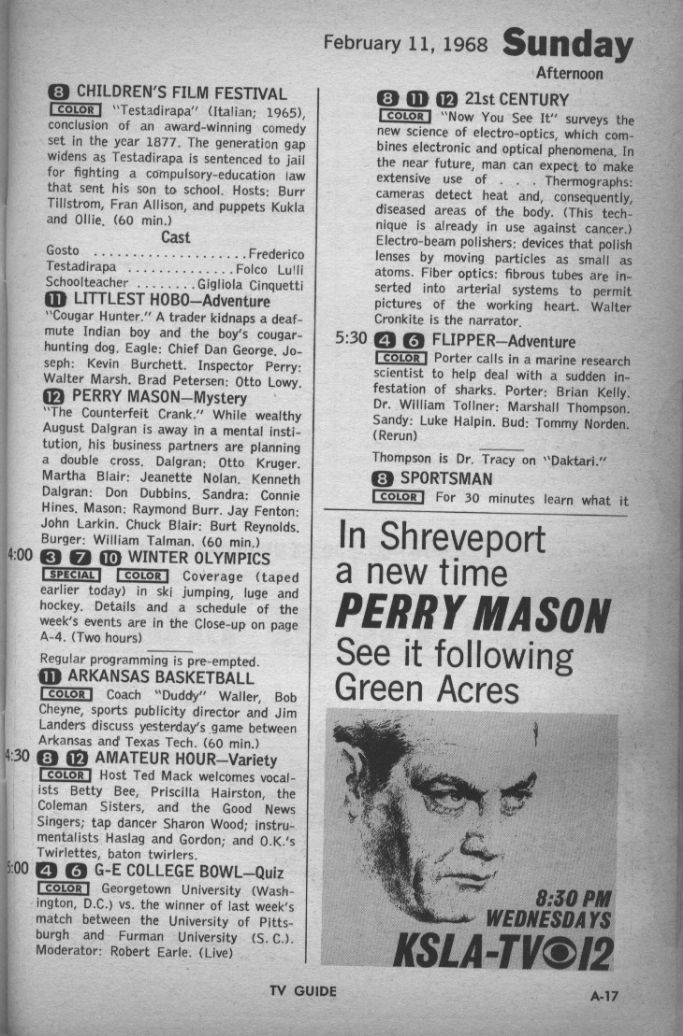 G'day, O human beings! We're all playing Clue this weekend on Rottnest Island, but first we stand by our duty to provide you with the utmost capital no-kidding best in TV viewing! Just feast your eyes on these samples!
6:39 P.M.  Ch. 14   YOU AREN'T THERE–History/Rubbish
What would it be like not to be present for some of the pivotal events of history? Host Walter Crankcase takes you to a 15th century Yorkshire village where the Spanish Inquisition is not happening–in fact, hasn't even been heard of. Featuring the June Taylor Dancers.
7:00 P.M.  Ch. 02   GO TO THE HEAD OF THE CLASS–Quiz Show
Who are smarter–goldfish or college students? A team from Fimbo University shows the form that saw them defeated on "It's Academic" by a team of plastic bottles. The goldfish team has already defeated Harvard, Yale, and Princeton. Host: John Carradine. With Adlai Stevenson as Vanna White.
Ch. 37   I EAT YOUR LUNCH FOR SUPPER–Crime Drama
Hard-boiled private eye Stanislaus Brzwycz (Dick Cavett) investigates the theft of donut holes from Azog's Bakery–unaware that city crime boss Big Jim Ut-Napishtim (Danny DeVito) has him marked for death. Giant spider: A real giant spider (they spared no expense).
7:30 P.M.  Ch. 51   MOVIE–Tragedy/Science Fiction
In "Dog My Cats!" (2013), the first colonists on Jupiter are mystified by their cats turning into rather ferocious dogs; and a Scrabble tournament organized by Lt. Flapjaw (Barbra Streisand) gets completely out of hand. Special effects by a couple of high school kids. This was the last movie in which Streisand appeared with Koko the Cactus.
7:42  Ch. 60  THE HUMPY-DUMPY REPORT–News/Poppycock
Chet Humpy (himself) and David Dumpy (Buddy Ebsen) analyze fashion news from Java, archaeologists studying a house built in 1998, council elections in Kyzyl (the capital of Tuva: 10 points off if you didn't know that!), and Hillary Clinton's new book, I Climbed Mt. Everest and Discovered the Salk Vaccine. Special guest: Edward the Black Prince, who isn't really black.
Well, boys 'n' girls, there you have it–just five of the TV treats brought to you by Quokka University. We guarantee you'll be a better and wiser person for watching them!