It's Boxing Day in Scurveyshire! Everything grinds to a halt.
Back in 1206, Lord Watnot, 4th Earl of Coldsore, decreed that Boxing Day should be devoted to boxing matches. Originally everyone in Scurveyshire had to box. That custom was changed in 1452 when Lord Pingo was knocked silly and left unable to participate in the Wars of the Roses.
Introducing Chapter CDLIX (pronounced "coodlicks") of her epic romance, Oy Rodney, Violet Crepuscular apologizes for tabling the agonizingly suspenseful confrontation between Willis Twombley and a marauding jackalope. "The reader will appreciate," she bowdlerizes, "that we simply don't do confrontations on Boxing Day in Scurveyshire. I didn't get where I am today, doing confrontations on Boxing Day in Scurveyshire."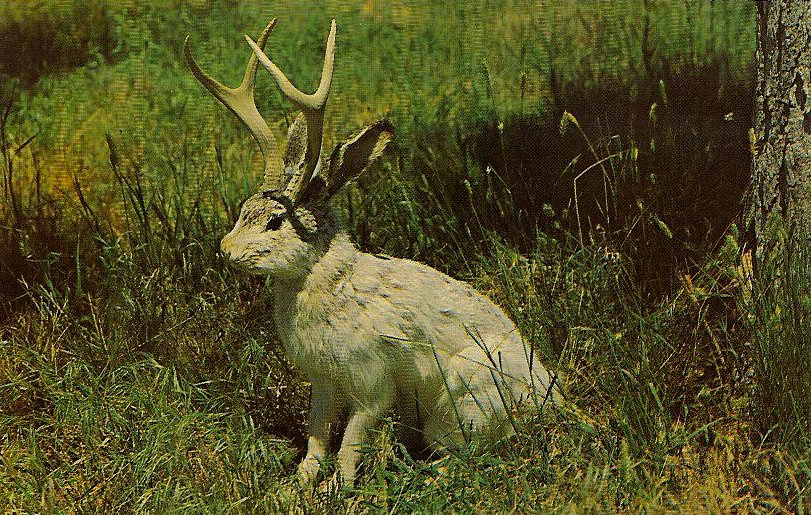 A jackalope. Beware!
Whatever comes hopping out of the vicar's kitchen garden–is it Jack the Jackalope, or something worse?–finds no trace of Willis Twombley waiting for a showdown. No one's around at all. Unbreakable custom has driven them all to the village common for a whole day's worth of bare-knuckle boxing bouts. The winner gets the ability to see into the future, but without anyone ever believing a single thing he says about it. Last year's winner, Mrs. Marilyn "Popeye" Sloan, came out of a trance with a warning about Enron stocks. No one listened.
"Now," writes Violet, "the stage is set for a new champion, a new glimpse into the distant future. And don't forget, there's still a hydra on the loose! I don't know about you, deer reader, but the suspense is killing me!"
It isn't exactly doing wonders for us, Violet.