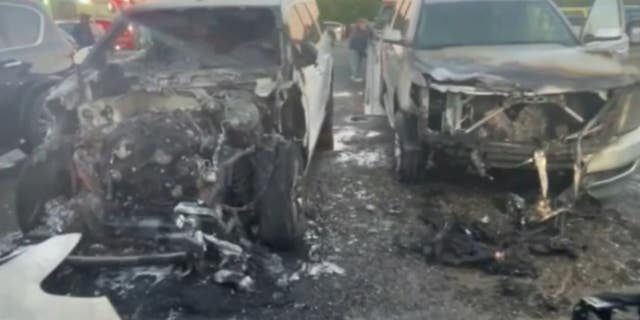 Your tax dollars at work
How weird is this?
The Biden family rents five cars–all from Hertz, but all different models–for its posh Thanksgiving vacation on Nantucket, parks 'em in the airport parking lot… and ka-boom! They all go up in smoke and flame. All at the same time (https://www.foxnews.com/politics/bidens-secret-service-rental-vehicles-burst-flames-left-nantucket-vacation).
The White House says the cause of the explosions is unknown.
I'm assuming–sources don't say, so I have no evidence for this–that all five were electric cars. Hmmm… Haven't we heard that the batteries in electric cars, in addition to being insanely expensive, can also be, well, dangerous? Prone to explode suddenly, for instance.
Did someone arrange for those cars to blow up? Just askin'.
Meanwhile, electric scooters have been exploding and bursting into flames all over the world (https://cities-today.com/e-scooter-fire-safety-becoming-a-growing-concern/). The cause of those explosions is believed to involve lithium-ion batteries made in China.
Maybe it was a bolt from Above.
Editor's Note: See? We've been here before, with the exploding hoverboards (https://leeduigon.com/2015/12/31/and-ka-boom-goes-the-hoverboard/). Lithium batteries turned out to be the culprit. Just like the batteries in electric cars. P.S.–And don't forget those mysteriously exploding U.S. Mail trucks from a few years ago.