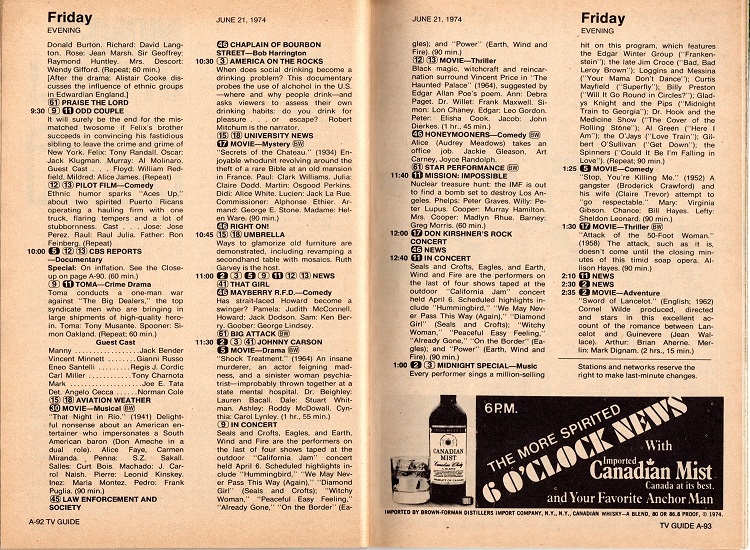 G'day out there! Byron the Quokka here, with another weekend's worth of sustainable TV brought to you by Quokka University. Here's just a sample:
6 P.M.  Ch. 14   THE TOTALLY PLASTERED 6 O'CLOCK NEWS–News and slosh
Anchorman Poopsie Whippersnapper slurs and mumbles his way through the day's news as inebriated staffers collide with studio furniture and absent-mindedly start fires. Canadian Mist canceled its sponsorship of this show, but it was quickly picked up by the lesser-known distillery, Old Souse. Sports: Some guy face-down on the floor, we can't see who it is.
Ch. 51   NEWS FOR SPIDERS–News and commentary
What does the daily news look like to a spider? Anchors Don Fapp and Wendy Bendy, plus all the reporters in the field, wear realistic spider costumes, to reassure real spiders that they have friends in big-time journalism. All news written "with a spidery slant." Tonight: "Tasty bugs you can catch in the Governor's Mansion." Featured: the June Taylor Dancers… with eight legs.
6:30 P.M.  Ch. 22   MISS VIOLET'S KITCHEN–Cooking show
Best-selling romance writer Violet Crepuscular's real love is gourmet cooking! Tonight she'll show you "Six Fantastically Creative Uses of Toothpaste"–in cabbage rolls, hors d'ouevres [Search me if I spelled that right!], clam chowder, and three more unexpected dishes. Guest taster: Retired wrestler George "The Animal" Steele.
7 P.M.  Ch. 06   MOVIE OF THE MONTH–Adventure, herpetology
Irving Kallikak stars as actor Burt Lancaster, and Lancaster stars as Irving Kallikak, in Don't Look Now, But Here Come the Giant Tree Frogs (Indian-Estonian, 2008). A laboratory clean-up goes wrong, and gigantic tree frogs escape to wreak havoc among trees and buildings that can't support their ponderous weight. General Fizzle: Martin Balsam. Miss Mississippi: Marla Maples. Doc: Joe Pyne. Sneezy: Simon Oakland.
7:30 P.M.  Ch.14   THE SCARLET COCCYX–Historical sitcom
Who is "The Scarlet Coccyx"? The mad bishop (Joey Bishop), the brawling woman with a headache (Patty Duke), the goofy teenage werewolf (Michael Landon)–it could be anybody! This week: Detective Inspector Yogi Shubushu (Matt Damon) thinks he has a clue to The Scarlet Coccyx's real identity, but nobody cares.
And those shows, boys 'n' girls, are just the tip of the iceberg! We've been collecting stuff like this from dumpsters all over Rottnext Island.
Byron the Quokka–inspecting wheels and signing off!