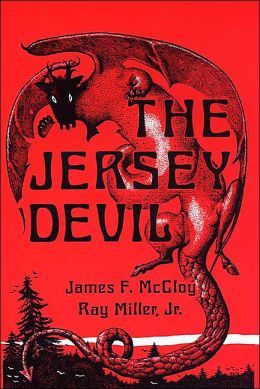 Here is the definitive work on the Jersey Devil. Yes, I know co-author Ray Miller is my brother-in-law. That doesn't mean there's no Jersey Devil. Doesn't mean there is, either.
For those of us who think we know everything, or someday will know everything (thanks to Science), allow me to introduce the Jersey Devil.
Stories of the Jersey Devil have been circulating in New Jersey since the 1730s, and encounters with him, or it, are still being reported today ( http://weirdnj.com/stories/jersey-devil/ ). Normally associated with the Pine Barrens of southern NJ, the Devil has recently–so it seems–expanded his operations to the area of Round Valley Reservoir in the northern part of the state ( .http://thedamienzone.com/2012/06/16/jersey-devil-sightings-in-northern-new-jersey/)  Over the centuries, he's also popped up in other states.
We are at liberty to say the stories aren't true. There are an awful lot of stories, though. Thousands of 'em. And why should anyone but a kook want to go around saying he's seen the Jersey Devil, when he hasn't? Is everyone a liar? Is everyone a kook?
We don't have the fire, but we sure do have a lot of smoke.
What is the Jersey Devil? Some say it's just that–a devil, a demonic entity. Others insist it's a flesh-and-blood cryptozoological critter, like the Loch Ness Monster. Or a raptor, like in Jurassic Park. The point is, no one knows. No one has ever known.
And, in all probability, never will.