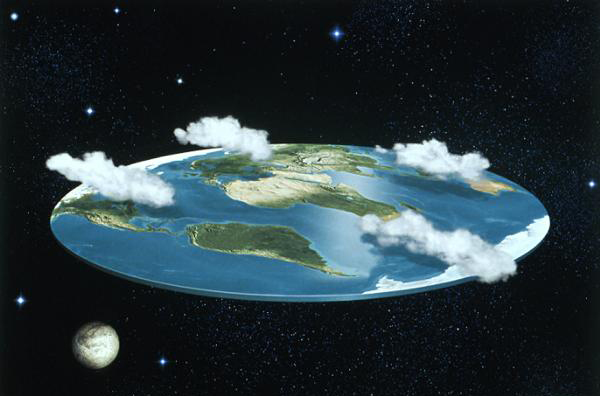 Let me quote from an email I received today. I have corrected some obvious typographical errors.
"From airplanes everything they tell you from NASA is a lie, everything. No moon landing, no satellites, no hubble [sic] telescope and definitely no space station. This is a fact and I hope you know this!!!! the earth is FLAT and not a ball 400 scriptures prove it. It does not spin at 1000 mph or go forward at 74,000 mph. Read the book 1984. Go to google and put in flat earth @@@ "
What are we to make of this? Is it possible that a tiny cabal conspired to create this totally artificial reality, a project involving many thousands of people, if not millions; and that they succeeded in keeping this gigantic secret from all but a few individuals like the author of that email?
Or have we all been told so cotton-pickin' many lies, so many really big ones–like Global Warming, for instance–that some of us now believe everything's a lie?
Let's take a break and see what happens if we search flat earth @@@.
***
There is no "flat earth @@@" website, but there is a Flat Earth Society. I always thought that was a joke, or a put-down used by secular humanists against regular people. But no–either there really is a Flat Earth Society, or else someone created it to have some fun on the Internet.
You'd think the existence of a horizon would be enough to demonstrate that the earth is not, in fact, flat. If it were flat, there wouldn't be a horizon.
But then Flat Earth isn't the only asinine belief floating around in our culture, is it?
As someone who does resort to the Bible to find truth–sometimes that's the only place to find any–I can't say I'm comfortable with any claim that there are "400 scriptures" that prove the earth is flat.
That sounds way too much like saying Matthew 25 proves we gotta have Obamacare or else we go to Hell.