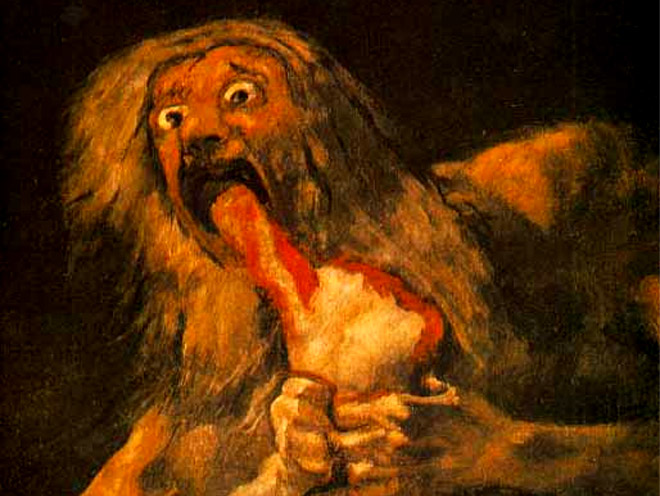 Goya saw this coming, and painted it…
Leftid comic genius Sarah Silverman wowed 'em on TV a few nights ago by saying, "If anything has ever made me want to eat an aborted fetus, it's this law" (https://ijr.com/the-declaration/2018/02/1061687-sarah-silverman-goes-off-deep-end-says-new-pro-life-law-makes-her-want-to-eat-aborted-fetus/), referring to a 2012 law that bans the use of aborted baby parts as food or drink ingredients.
You don't have to be Dante (or Goya) to be able to imagine what she'll be doing in the afterlife.
The, uh, comic also took aim at another law requiring cremation of aborted babies, instead of just chucking them in a bin. Revel in her sage commentary: "F___ing funerals for f___ing aborted fetuses?" She went on to mock the size and undeveloped intellectual capabilities of a fetus. The pot calling the kettle black.
She wrapped it up with this: "Religious freedom used to be such a beautiful thing… and now it's just this shroud to legalize hate and s___ like that." Didn't Spinoza say that once?
Isn't it just wonderful, the way entertainment (cough, cough!) celebrities know all there is to know about everything? Such fine and delicate sentiment! Such crisp and scintillating wit!
Well, I keep telling you there's no one as anti-human as a humanist. And leftids are the biggest hate merchants around.