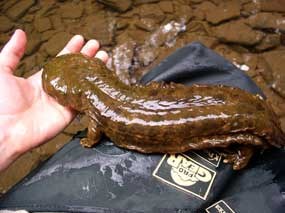 I'm fully behind these efforts to bring back the hellbender, North America's largest salamander: as big as a grown man's forearm.
https://leeduigon.com/2016/12/31/the-return-of-the-hellbender/
These salamanders need to live in clear, clean, cold, swiftly-running streams–so you can see how they might be in trouble. Wherever there's a healthy hellbender, there's a healthy stream.
I think we need more babbling brooks and less babbling politicians cutting deals with developers–don't you?