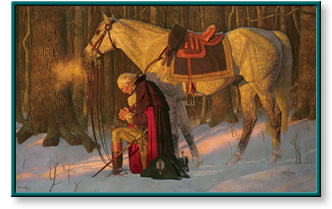 The God of Israel said, the Rock of Israel spake to me, "He that ruleth over men must be just, ruling in the fear of God.   2 Samuel 23:3
George Washington got down on his knees and prayed for God's guidance. We always need God's guidance, but there are times we need it more than others. We are living in such a time right now.
Rulers–we properly call them elected officials, and used to call them public servants–ruling in the fear of God–has anybody, anywhere, seen that lately?
We are all, or all ought to be, servants of God, each carrying out his own function. There are those whose function it is to govern. If they govern under God, and in the fear of God, obeying God's laws, then their authority comes from God, they are doing God's will, and we can even rejoice in them because their efforts allow us to live in peace and security.
But if they rule as rulers, with no fear of God, doing whatever they please regardless of His laws: then not only are they tyrants, with no legitimacy at all; but, dude, that puts you under the hammer, man, because now you're trying to be God! All you'll get out of that is to be surrounded by toadies who tell you what you want to hear because they expect to be enriched by you, and an awful lot of people whom you don't know wishing you would hurry up and die.
As Plutarch once said–even pagans used to know these things–tyranny is a nice perch with a lovely view, but there's no safe way down from it.
Ruling under God is safe, and sane, and right, and tends to security and prosperity for the whole community.
Ruling without the fear of God is the very opposite of all those things.