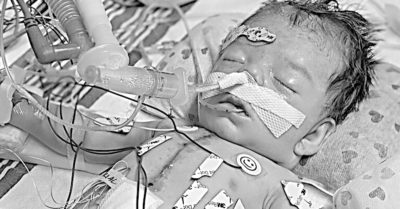 Newborn Holden with all the tubes and such. By God's grace he's hanging in there.
Please keep those prayers coming, folks, for Martin Selbrede's baby grandson, Holden, who was born seven weeks prematurely and with a defective heart that needs surgical repairs. Here's Martin's update.
https://chalcedon.edu/resources/articles/the-literal-reconstruction-of-a-heart
Holden needs three open-heart surgeries and has already had two of them–before he was even two months old. I've seen a picture of him without all the tubes and sensor plastered all over him–a sweet little baby with a sweet smile.
Martin, a director of the Chalcedon Foundation, has been a friend and mentor to me. I pray every day–and please join me–that the Lord will bring Holden safely through the danger and that he'll grow up to be a good and godly man: amen.