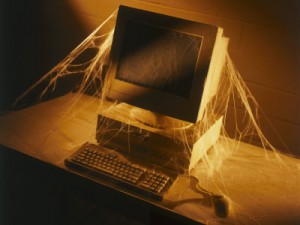 Well, now what do I do?
The computer sez "install new updated version of Firefox." I didn't dare try, but Patty did. That was an hour ago. It still doesn't work. It just sits there "configuring." It'll only take a few minutes, she said.
Meanwhile, viewership has imploded and today is shaping up as a right proper rotter. Where did everybody go? Was it something I said? I wonder if other bloggers have experienced this lately.
Yes, I'm typing this on another computer. We have two. The one I use has stopped working. What a great update. As Pyrrhus once said, "Another such victory and I am undone." I don't have a victory, but I love using classical quotes. It keeps me from cursing.
So now I guess I'll go back outside and try to read this big thick book with really small print that I have to review for Chalcedon. It's all about postmodernism. After that I guess I'll scream for a while.