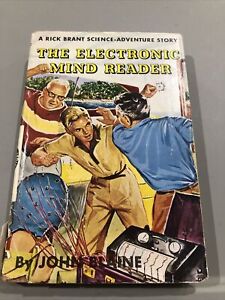 Remember, ten years ago, a number of TV "reporters"–and Judge Judy, too–suddenly started talking gibberish? On camera, in fact. They couldn't help themselves. And as far as I know, nobody ever found out what was wrong with them.
In 1957, in a Young Adult "science adventure" novel by Hal Goodwin (dba John G. Blaine), The Electronic Mind Reader, the bad guys get hold of a new technology that enables them to stop scientific projects by scrambling the scientists' brains. The victims are reduced to spouting gibberish.
Hal Goodwin was in the loop. He'd worked for quite a few different government agencies, traveled the world, and knew a lot of people high up on the ladder.
So what had he heard of, or glimpsed, in 1957 that inspired him to write that book? Which seems a particularly scary little book today, now that big-name Scientists are talking about hatching a new technology that will allow them to put stuff into someone's brain without cutting him open. Or take stuff out. And–get this!–they describe it as "reading" the subject's brain. As in The Electronic Mind Reader.
Using technology wisely, we can all become sock puppets. The only question to be asked is… whose?
Are they, uh, daring God to intervene? Does that ever turn out well?
I think they are. Whether they know it or not.