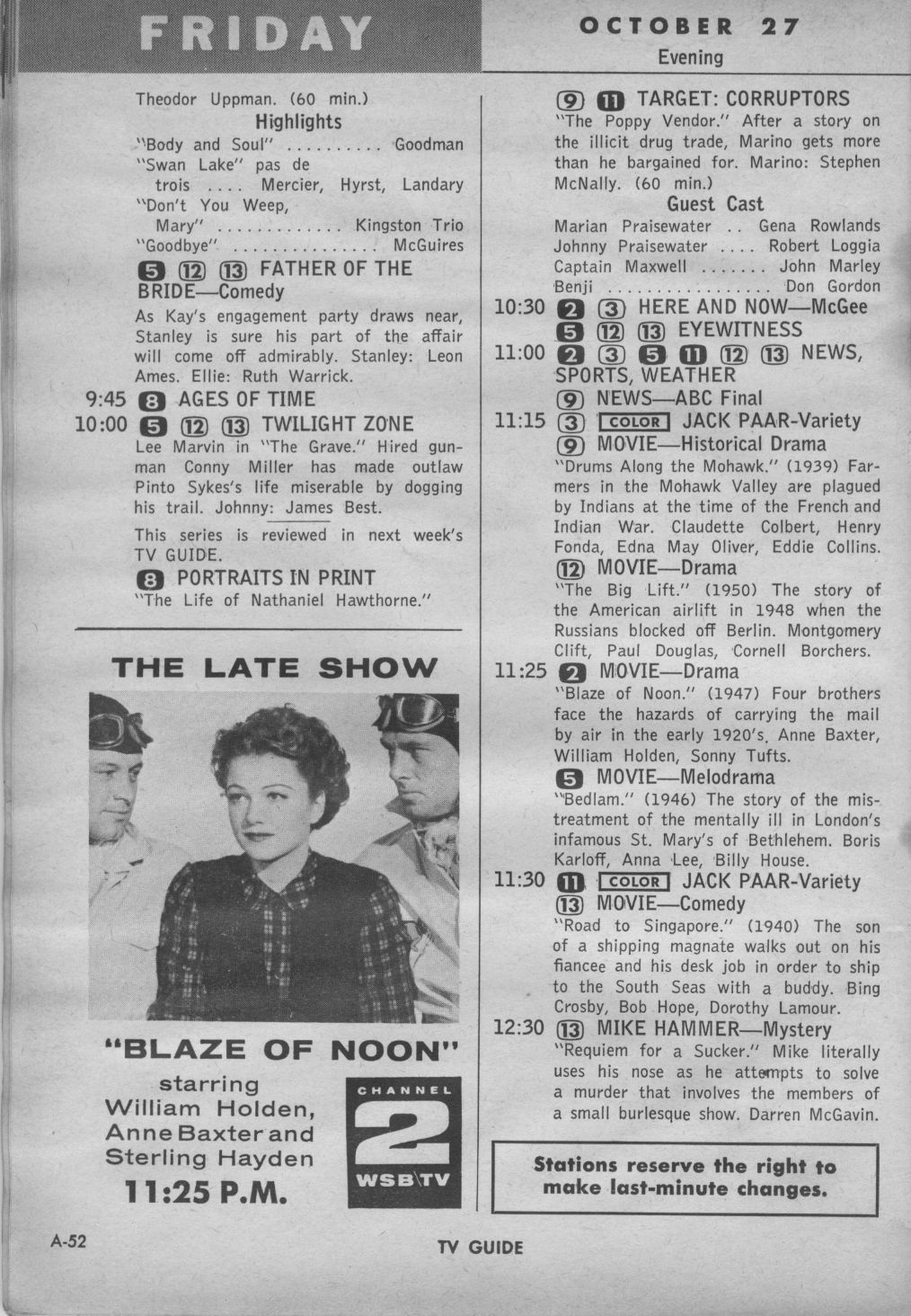 G'day, culture fans! Byron the Quokka here, with this weekend's windfall of wild, wacky, wonderful TV! (I expected that alliteration to work better. Oh, well…)
So break out the eucalyptus leaves and settle in for some great TV viewing. Here are just a few samples.
7:28 P.M.  Ch. 03   THE PRICE IS WRONG!–Game Show
Contestants have to estimate the prices of various items which it would be shameful or even unbearable to own–and whoever's guess is farthest from the actual price… has to buy it! This week's celebrity contestants: Chiang Kai-Shek, Pee Wee Herman, Peggy Cass, and Archie from the comic strip. With Chuck Schumer and his orchestra.
7:30 P.M.  Ch. 02   THE HOWARD, HOWARD, & FINE REPORT–News/Discussion
You know them best as the Three Stooges, but they also analyze the news! Join Moe, Larry, and Curly as they apply their special insights to the Cuban Missile Crisis, the Kennedy-Nixon debates, the sad state of the Euro vis-a-vis assorted East Asian currencies, and the survival of the Occitan dialect. Complete with pies and seltzer bottles!
Ch. 16   FEAR NO MAN–Marital Arts
[Hey! Can we please fix that typo?] Martial Arts [Thank you! Sheesh, people are going to wonder about us!]
Sensei Bernie Foolscap demonstrates sure-fire ways to disable an attacker three or four times your size. Also, "How to grin down a grizzly gear" by Master Jim "Stumpy" Watkins. Featured: the June Taylor Dancers.
Ch. 42  MOVIE–Tragedy/Science Fiction
"Them There Big Bugs" (1959) features Chuck Connors as a Trappist monk trying to warn of impending catastrophe without breaking his vows of silence–and now he wishes he'd never taken that vow never to write anything, either. As the big bugs get closer and closer to the unsuspecting town, what will he decide? Abbott Bud: Dean Jagger. Sister Blabbermouth: Gracie Allen. Newspaper Editor: a rather large barrel cactus.
8:06 P.M.  Ch. 21   WHAT'S WRONG WITH YOU?–Medical
[Never mind, we're not going to run this–much too controversial!]
Ch. 21  MOVIE–Musical/Nature Documentary
In "Hee-Haw Yo' Momma" (2018), the cast of a 1967 Hee Haw broadcast is scientifically transported to the future–just in time to help test a new scientific submarine that dives too deep for Artificial Intelligence to bear. Junior: Junior Samples. Buck: A man who looks like Buck Owens. Dr. Facehead: Hao Kum Mee.
Well, that should get you started! It's supposed to rain a lot this weekend, so good thing we've got all this TV lined up, eh? I mean, otherwise we'd have to talk or play games or something.
Anyone for Clue?