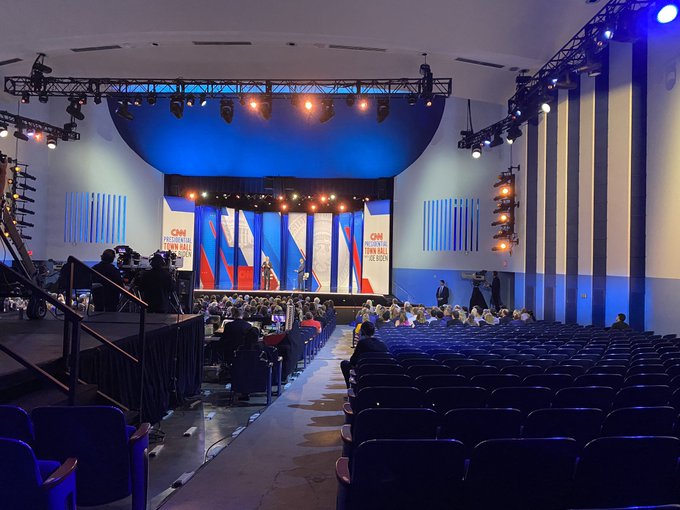 Gee! Look at all those invisible Biden voters disguised as empty seats!
You'd think a nation would be mortally ashamed even to suggest that such a wreck as Joe Biden could be president.
So the other night Biden had a "town hall"–a euphemism for a totally contrived event choreographed by biased nooze media–with CNN. They had to jam everybody into the first couple rows to hide fact that the auditorium was 90% empty.
And then the man who calls himself our president got down to some serious babbling and fumfering. He is not the man he was: and the man he was was nothing to write home about. (https://www.thegatewaypundit.com/2021/07/biden-flirts-mans-wife-rambles-man-moon-aliens-asked-vaccine-hesitancy-black-community-video/)
His rambling, disconnected takeoff on an audience member's question featured cameo appearances by "a man on the moon" and "aliens." It is hard to see how they fit in.
It is unfair to say Biden was flirting with the man's wife. We know that when he flirts, he gropes. No–this was just some ham-handed pleasantry put forth as wit.
The real stuff here is the incoherent babbling.
Once upon a time long ago–I will not say "in a galaxy far, far away"–Biden was a practiced, professional politician who knew how to talk to people, knew how to warm them up, knew how to pass himself off as one of them. He has lost those gifts. His public appearances are pitiable.
And this represents our country to the world.
But then the other national leaders, with just a few notable exceptions, aren't so hot, either.