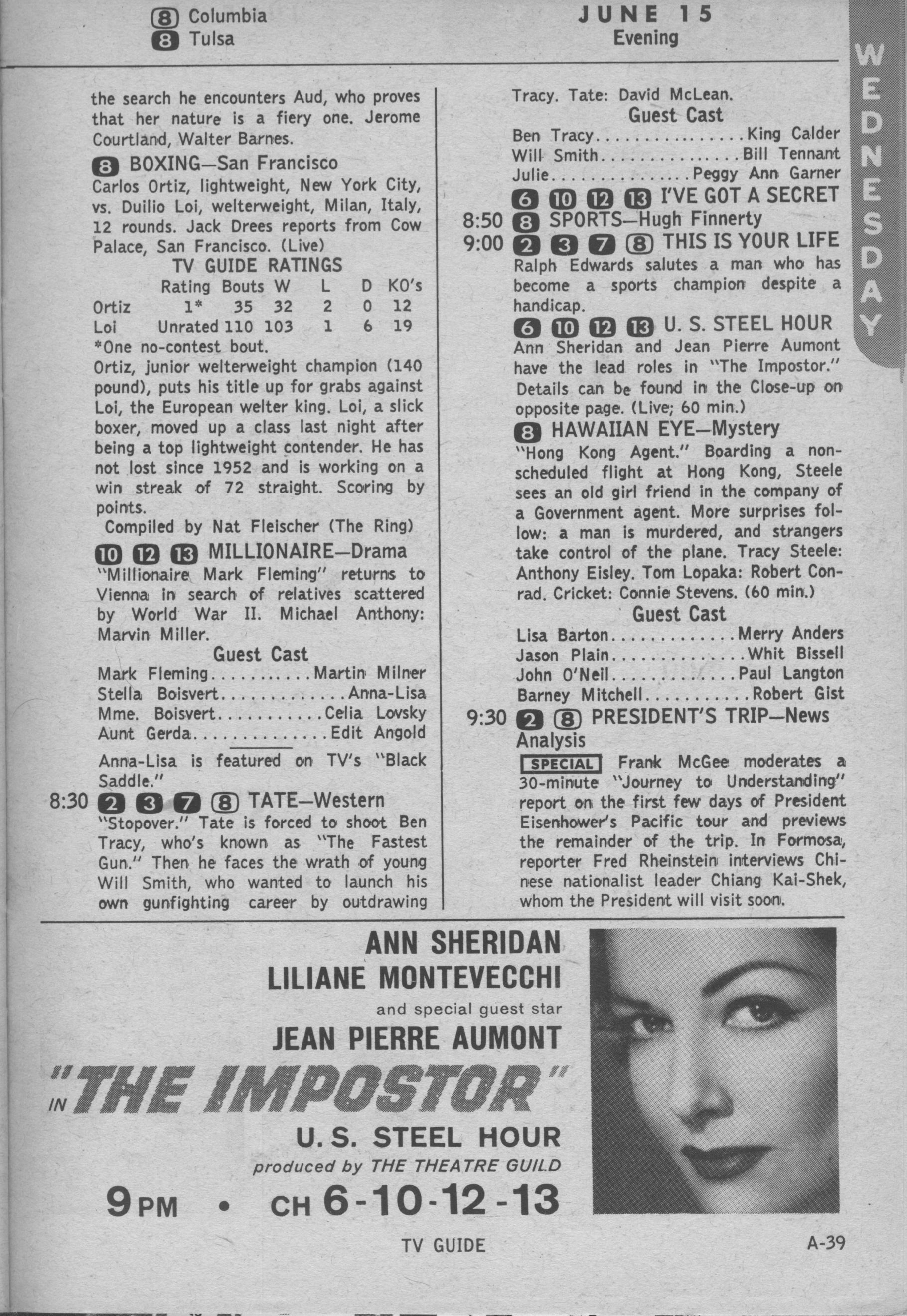 G'day, g'day, and happy weekend! Byron the Quokka here on behalf–where did that word come from?–of Quokka University, where we find the world's best forgotten TV shows for your weekend viewing orgies.
I'm sorry, there seems to be something wrong with my choice of words today. Here are a few samples from this weekend's menu.
2 P.M.   Ch. 00   ANDY PHNUGLUIH–Variety
The public has always wondered why Andy Phnugluih, with all his talent, never became a major star. A few episodes of this show might suggest an explanation. This week's guests: Col. Wxha Bochgeshvili, Susan Mfoyay.
Ch. 07   SCHMENDRICK THE MAGICIAN–Western
Travel the Wild West with the only magician in Oklahoma Territory who can make his enemies think they're axolotls! This episode: When the Tumorville Bank is robbed by real axolotls, Sheriff Witless (Andrew Cuomo) turns to Schmendrick (Andy Devine)… as the fall guy! Ma Bell: Sophia Loren
2:16 P.M.  Ch. 12   PEOPLE NAMED AFTER CARTOON CHARACTERS–Morbid Nonsense
Join host Chiang Kai-shek as he journeys all over Cartoon County, Kansas, to interview unfortunate  persons actually named Mickey Mouse, Goofy, Sylvester Pussycat, Elmer Fudd, etc. This week's question: What happens when a cop writes you a speeding ticket and asks your name? Featuring Artie the Hamster and his orchestra.
2:30 P.M.  Ch. 22   HAWAIIAN EYEBALL–Mystery
Detective Oswin Prong (Andre the Giant) solves crimes by peering through keyholes! This week: When crime boss Wan Hung Lo (Danny Kaye) threatens to "hang a lulu on Honolulu," Police Chief Jack Benny (Jack Benny) resigns and Prong has to take his place. This brings on a spell of horrendous weeping. Spectacularly special guest star: Wanda Hershberger.
Ch. 34   PUPPET HOME REPAIRS–Educational
In this new PBS series, the Bil Botch Marionettes demonstrate assorted home repairs: how to clean up bloodstains, how to avoid hanging a door upside-down, the ins and outs of outdoor plumbing, what to do when you've been electrocuted… The puppet crew features Footra the Ballarina, Binx the Irascible Centipede, and Bungo the Klutz. Special guests: the June Taylor Dancers.
Well, there you have it! Stock up on tasty leaves and settle in for entertainment like you never believed was possible.