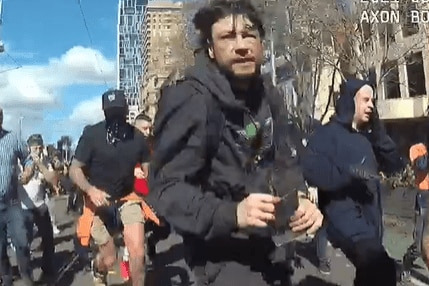 An anti-lockdown protest on the streets of Melbourne
Australia's draconian anti-COVID measures, aimed at a goal of "COVID zero," have failed, says the country's prime minister, Scott Morrison (https://www.foxnews.com/world/australia-end-covid-policy-not-sustainable). The continual lockdowns and fear-mongering "is not a sustainable way to live in this country," he said.
Ya think?
With a survivability rate of over 99% for persons whose health has not already been compromised by some other disease or medical condition, COVID-19 has inspired Australia's "leaders" to put the country through an endless cycle of lockdowns. A single "case," whatever a case is, touches off a lockdown–or, in the words of the government euphemism, "a circuit-breaker." It's supposed to cut off COVID before it starts rolling.
Morrison said "most" of the restrictions will be lifted as soon as 80% of Australia's population is "vaccinated." So far it's only 27%–even with all the threats, punishments, and inducements.
Meanwhile, civil discontent has been piling higher and higher and higher. Australians, for the sake of a failed policy that was never going to be successful in the first place, have endured more than they ever expected.
("Blimey, mate, we're sorry we put you through all that! A cryin' shame, eh?")
To claim damages from the government, hold your breath and count to a million.
Will the people be content to wait for 80% to be vaccinated before returning to life as normal human beings?
Stay tuned–this party ain't over yet.