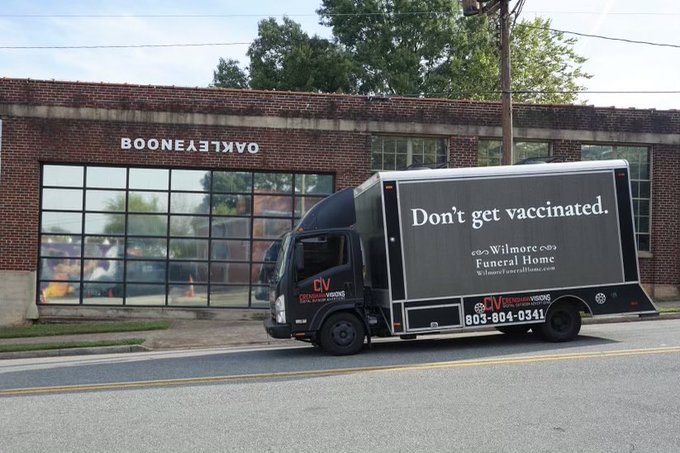 Hey! Maybe we can deceive people into getting COVID shots! Wouldn't that be great?
So an ad agency in Charlotte, North Carolina, has gone into the reverse psychology business, creating a black truck, supposedly belonging to a "Wilmore Funeral Home," sporting the message, "Don't get vaccinated." 'Cause, ya see, you're all gonna die if you don't get your COVID shot! And that's great business for the funeral home. Maybe everybody's gonna die! See the article in americanthinker.com (https://www.americanthinker.com/blog/2021/09/its_time_to_end_vaccination_thuggery.html).
The catch is, there is no "Wilmore Funeral Home." If you visit its supposed website, you wind up reading exhortations to get the shot.
They want to trick people into doing that. Why not? We've already seen "free donuts if you've had your shot" and offers to pay you $100 if you submit to the "vaccine."
All of this is unprecedented in America, and rather sinister. We still have no explanation as to why COVID-19, with its better than 99% survival rate for most people, has to be treated as the deadliest disease in all of history. We do not know why such over-the-top extraordinary measures must be taken to fight it.
I mean, people die from flu every year and we've never had an anti-flu campaign like this. I now know several people who've had COVID, and although they really were very sick for a while, they recovered.
Lying, fraud, and deception have become rampant in our culture. It's getting so you don't know whom to trust, if anyone. Are we ever going to go back to telling the truth?
But then truth is not a left-wing value, is it?