G'day! Byron the Quokka here, live (what else?) at Quokka University on Rottnest Island, with another supercalifragilistic weekend of TV viewing. For instance:
8 P.M.  Ch. 08  THE FUMPHERS–Sitcom
Weewee (Dennis Weaver) gets a job diagramming sentences, while Popsy (Washington Irving) catches Mrs. Sphagnum (Totie Fields) crawling around through their tomato patch again. Myrtle the Octopus: herself.
Ch. 13   SCARY HORRIBLE BUGS–Educational
Host Jimmy Fraud is terrified of insects, any insects: watch the fun when the script forces him to eat and sing to assorted creepy-crawlies. His pleas to "Let me outta here!" fall on deaf ears. This week's guest: Charles De Gaulle.
8:13 P.M.  Ch. 02   MOVIE–Adventure/Bad Poetry
"Piranhas Wipe Out New York" (Latvian, 1959) features Mongolian celebrity bass fisherman Urgus Quzeluut as the only man in New York City who knows the paranhas are coming to eat everybody; but only Flopsy and her sisters (the June Taylor Dancers) will listen to him! Everybody else says rude things to him. Coach Red Holtzman: Carol Burnett.
8:30 P.M.   Ch. 33  NEW YORK MENDICANTS BASEBALL– Sports
The Mendicants take on the Washington Thieves in a three-game series billed as "the high noon of Major League expansion!" Seventh-string All-Star second baseman Skip Coccyx is back in the lineup after being sidelined with an identity crisis. Play-by-play and color commentary: Greta Thunberg, Woody Woodpecker.
9 P.M.  Ch. 41  I LIVE FACE-DOWN–Crime Drama/Tragedy/Can't Bear to Watch
Bacteria City Detective Lieutenant Basil Frazzle (Buster Crabbe), busted down to beat cop for an infraction he didn't commit, devotes himself to tracking down the mice who framed him and getting back at the review board who didn't believe his story and gave him a proper reaming-out for telling it. Capt. Batnick: Barney Rubble. Inspector Grone: Herbert S. Zim. Street-smart Nun: Dame Judith Anderson.
Now, how's that for a mere sample of the indescribable pleasures that await you when you tune in to QUTV? We go to unspeakable trouble to round up these shows for you!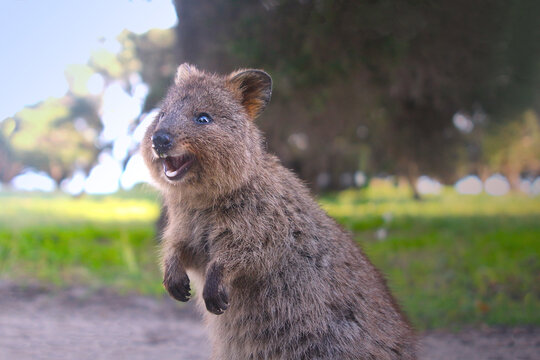 Byron the Quokka, signing off–before someone grabs my seat.