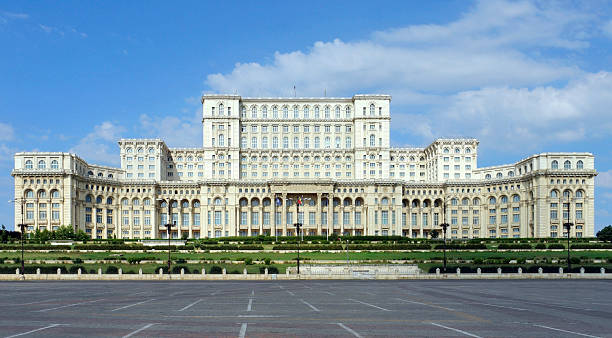 The Palace of Parliament, Bucharest
Dr. Rodney Stark, professor of the sociology of religion at Baylor University, has an intriguing take on ancient ruins. I interviewed him, some years ago.
Dr. Stark says we who study archaeology and history have always placed way too much emphasis on monumental structures like pyramids, ziggurats, great walls, etc. He even suggests that since these monuments consumed so much wealth and labor, we may be justified in thinking "the grander the buildings, the more wretched the population."
Sometimes these great ruins are all that's left. After a certain amount of time goes by, the remains of ordinary lives perish. So we are left to wonder about those lives. How well did they eat? How comfortable and useful were their clothes? What was it like inside their homes? Remains that point to answers to those questions are fragile and rare.
Imagine the world two or three thousand years from now, with archaeologists judging the health and vigor of the world's nations by their architectural remains. What would they think of the world's grandest public building, the Palace of Parliament in Bucharest, Rumania? Surely that would survive. We know Rumania as an impoverished state with lots of unsolved problems. But if all that was left was the ruins of the Palace, what would historians think? Wouldn't they conclude that Rumania was a world leader?
And think of all those opulent presidential palaces in Africa. The people are starving, but the tyrant lives la vida loca in his palace. If all that survived was the ruins of those palaces, might we not jump to all sorts of wildly inaccurate conclusions about the people who built them? Like, "Wow! This must've been a really rich and powerful country!" Not.
Judge not by appearances, the Bible warns us. That goes for archaeologists, too.