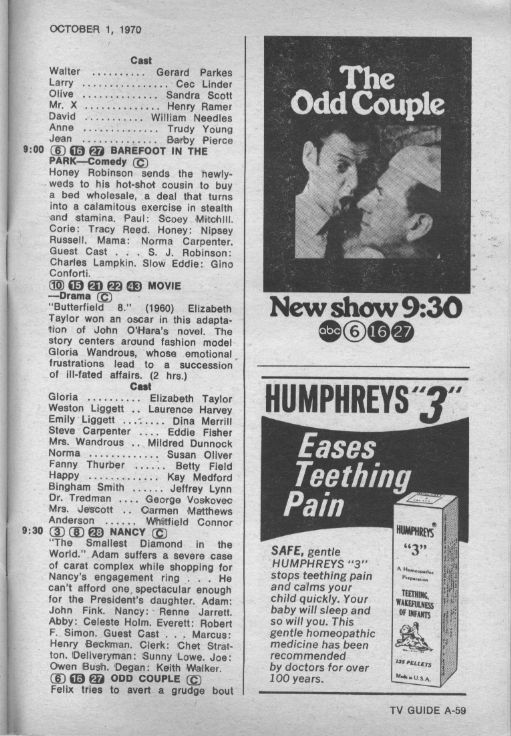 G'day, fellow TV connasoors! (Betcha didn't think I could spell that.) Welcome to another weekend of glorious TV brought to you by Quokka University. I'm Byron the Quokka… with some samples from our menu.
7 P.M.  Ch. 02   PUPPET NEWS–News & commentary
If you always thought the nightly news would be much more entertaining if it was done by puppets instead of people, this here is the news show for you! It's the show that made Draco the Mosquito a star. Anchors: Juppy the Rug Monster and Ms. Flyne with the enormous floppy ears.
Ch. 10  FIND THE ANTIDOTE!–Highly dangerous game show
What kind of risk would you take to earn $35, tax-free? Join host Claude "Down On His Luck" Akins and the June Taylor Dancers as frantic contestants try to find the antidote before they get really sick! Special guest: William Saroyan.
7:30 P.M.   Ch. 14  THE BIZARRE COUPLE–Sitcom, with stoic overtones
Can a meter reader who thinks he's a starfish share an apartment with a man who really is a starfish but thinks he's a meter reader? Ronnie: Some guy we hired off the street. Lonnie: William Conrad. Bonnie: Patti Play-Pal.
8 P.M.  Ch. 27  SEYONG YOI, U.S. MARSHAL–Eastern Western
Lou Albano stars as Marshal Yoi in this first-ever Korean Western, shot entirely on location in Paterson, New Jersey. This week: Mayor Park Chan Chai (Alan Alda) and rancher Jee Ring Yo (Sandra Dee) get held for ransom by the Manchus. Big Manchu with chip on his shoulder: Peter Falk.
Ch. 43  MOVIE–Incredible work of exculpatory art
In "Oops, Comrade, My Bad!" (Soviet Union, 1994 [they didn't know it collapsed 3 years earlier, they were so busy making this movie]), an American rock star (Lawrence Welk [don't ask]) takes over the city of Yakutsk and gives crazy pills to the chief of the Secret Police (Tony Dow). As usual, The Party triumphs over all obstacles… except the real ones. Mrs. O'Hoolihan: Hana Mandlikova.
That ought to whet your appetite, eh! Honest, folks, I watched all of these and am a better quokka for it.
Here's me with this nice guy who sold me a time share!