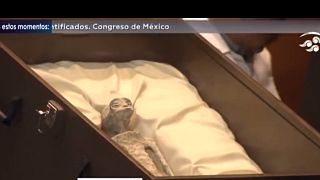 Here it is! Where are the X-Files when we need 'em?
As Our Beloved World Leaders seek distraction after distraction for us plebs, they might be hard-pressed to top this.
https://www.euronews.com/next/2023/09/13/1000-year-old-fossils-of-alien-corpses-displayed-in-mexicos-congress-as-ufo-expert-testifi
[The euronews article includes a video link.]
Yowsah, yowsah–"fossilized alien corpses," supposedly 1,000 years old, a few days ago were put on display for the Mexican Congress. And you think our Congress wastes time.  My wife says, "Stevie Wonder wouldn't be fooled by these, even if he had Ray Charles to tell him what they look like."
Thing is, there are people out there who very much want to believe in UFOs, etc. Never mind that every UFO story leads you down a rabbit-hole and then disappears. Like, somewhere Out There, there's just gotta be a super-advanced race who can straighten out our world. It's sort of a religion.
Sheesh! You don't believe in God the Father, Son, or Holy Spirit–but you believe in this? Say it ain't so, Joe.
Meanwhile, we have the Far Left Crazy here saying they'll weed out all the "misinformation," "disinformation," and "malinformation" out of the Internet, leaving nothing but unvarnished truth. Uh-huh. Sure they will. If you think fossilized space aliens are hard to believe in, try that whopper on for size.
(Editor's Note: No, this is not a satire.)