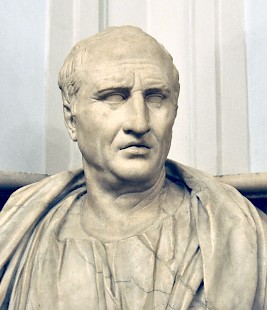 Titus Livius–a great historian
[Let's see how much I can get done before taking Robbie to the vet.]
It might be asked of me, "Hey, you've got a book to write! What the dickens are you doing, sitting there and reading Livy?"
For those who don't know, Livy, aka Titus Livius, was an historian who lived in Augustus' Caesar's time and wrote a history of Rome going all the way back to the beginning. I read the edition published in several volumes by Penguin Books. Livy was suspected of having republican sentiments at a time when maybe it wasn't such a good idea to have them; but as Augustus himself often said, "I'm a republican at heart," he was hardly likely to persecute Livy for sharing them.
When I'm working on a book, it helps me a lot to select another writer as my mentor. For my previous book, Ozias, Prince in Peril, my mentor was Geoffrey of Monmouth, whose History of the Kings of Britain (including King Arthur), was a runaway best-seller… in the 12th century!
Now I'm writing Ozias, Prince Enthroned, and Livy has stepped forward as my mentor. Not that I'm imitating him; rather, I see in his work an inspiration for my own. Livy wrote real history, while I have to invent a history for a fantasy world. His vivid descriptions and keen analysis of early Rome's one-after-another social, political, and military crises suggest to me the kinds of things that King Ozias would have to deal with. How should he respond to crisis? Livy knows! In fact, he knows about not only successful responses, but also failures.
Prince Enthroned is going forward rather slowly, from my end; but my editor, having read my most recent set of chapters, says "You've got your foot on the gas pedal, haven't you?" I take that as encouragement.
I now suspect that maybe the Lord wants me to slow down a little. Okay. I'll try that. A good book is worth taking risks for. Not to mention the abundant distractions we've had this year: Patty's hernia, new computer, refrigerator dies and we lose a raft of frozen food, and my accident that badly damaged Patty's car, and now Robbie's sick. Oh–and tons and tons of really bad weather, lots of workdays lost.
So I hope it's sunny and clear tomorrow, and that Robbie will get better, and that I can start another set of chapters. For "hope" read "pray."