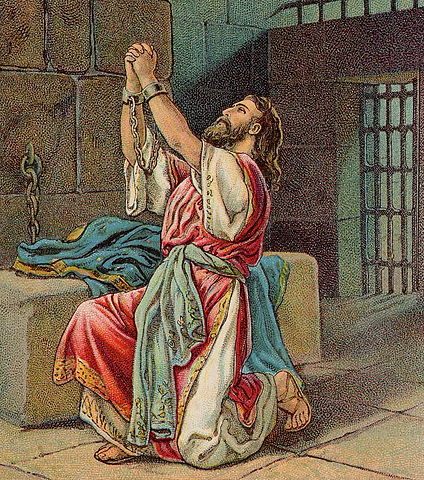 Manasseh praying and repenting in his prison cell
Hezekiah was one of the best kings Judah ever had. His son and successor, Manasseh, did not take after him.
Manasseh overturned his father's religious reforms and brought back idol worship and human sacrifice–passing children through the fire to give them to Moloch. His sins are told in detail in 2 Kings 21.
In 2 Chronicles 33, the story takes a dramatically different turn. In v. 11 the king of Assyria has Manasseh arrested and hauled off to Babylon as a prisoner. There Manasseh "humbled himself greatly before the God of his fathers" (v. 12), prayed, repented, and was eventually allowed to return to Jerusalem (v. 13). He kept his word to God and took away the idols, and restored right worship.
"Now the rest of the acts of Manasseh, and his prayer unto his God, and the words of the seers that spake to him in the name of the LORD God of Israel, behold, they are written in the book of the kings of Israel" (v. 18). But that portion of the book seems to have been lost. 2 Kings makes no mention of Manasseh's repentance. That doesn't mean he didn't. The two books' accounts augment each other; they don't contradict each other.
The lesson for us is surely that however far this man went down the road to perdition, he did not go so far that God's grace couldn't save him. In prison Manasseh realized what he'd done, prayed, and offered up sincere repentance. He changed his ways. He stopped doing the evil he'd been doing. God saved him, he wound up reigning over Judah for 55 years (longest reign ever), and was buried in his own garden.
If Manasseh's heart could change… so can ours.