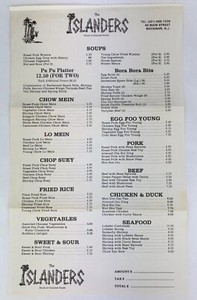 I think that's a reproduction of The Islanders menu, printed in the print shop at the good old Bayshore Independent, where Patty and I were working in 1976. I was managing editor, she was the bookkeeper. And The Islanders was a slam-bang great restaurant–I had my first Chinese food there, when it opened–which made it a natural destination for our first date.
And we've been together ever since.
After The Islanders we went to the movies (Voyage of the Damned–not exactly a knee-slapper) and then to Sam's Bar & Grill for a nightcap. It was more an old-fashioned tavern than a bar and grill.
All those things are gone by now… except us. I don't like to think of how our lives would've turned out if we hadn't met: glory and praise to God, who has blessed us with each other.