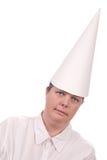 Sumbtimes Gender Studdies "it" is So hard butt our Prefesser xe knows "that" and xe Dont whant us "to" get al Stresszed Out so tooday xe taked Awaiy our Tecksbook becose it "Is" hard four us to reed thare Are a lott "of" big Words in "it" and makes Us feeel so Bad and so insted fromb now On wee wil Studdy car toons and graffic novles!! And aslo we wil get More Play Doh!
xe aslo gaved us This hear graffic Novle it "is" caled Oy Rodney and ze sayed we shuld Oauhght to studdy it to fined al "The" micro Gresions and biggity thats In it!! Xhe aslo ze sayed we Got to whach Out four al "the" Wite Privvlidge that in it and then We whill has a Test witch it shuld Not be "two hard" becose Al we "has to" Do is go out And key cars!!!
This hear Oy Rodney it "is" jist tarrible!!!!  That is becose "it" shoes jist wat Wimmins thay is Up "aginst" and aslo thare "Is" a lot of Sexule Horassmint in it tooo;, It makes "me" so Mad i has to Stopp and play whith Play Doh til my Moth Antenners thay stopp twitchin And wuld yiu beleave it I got in trubble for That!!! The prefesser xe sayed "Cant yiu" stop "that?? it is distracking al The "othher" stodents"! Wel i cant Help it its becose Of "al" them Moth Hormoans thay shot me Up whith to try to get my cromo-Soames to turn intto Wimmin cromo-Soames and i cant Help It if "the" exspearmint it dint work!!! So xe mayed me ware this hear Pointy Hat so no one thay "wuld see" my Antenners!
O wel! in jist Fyve moar yeers I "wil" Get my Batchler's Deegree in Gender Studdies and "Than" i can start on My Masters! and Eaventurly i wil Be a reel Intrallectural!!!