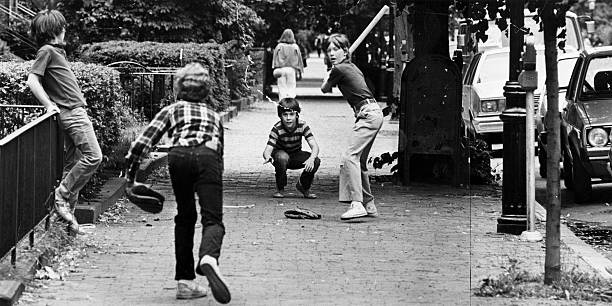 I am so glad I had my childhood in the 1950s, when you were allowed to play without some adult ordering your every move.
In the summer we liked to play baseball. We did not have 18 kids for two teams, a scoreboard, umpires, adult coaches, uniforms, sponsors, bleachers full of parents, and all the rest. We didn't have bases. See, in the picture–somebody's mitt is serving as home plate. And they're playing on the sidewalk.
But what we did have was games that could last all day if we wanted, in which it was possible to come to bat 100 times and get 50 hits.
So how do you play baseball with only six or seven kids and no sponsors?
Simple–you just use however many of these special rules you need.
*Pitcher's hand–If any fielder can get the ball back to the pitcher before the batter reaches first base, the batter is out. This makes up for a shortage of infielders.
*Invisible men on base–When the team at bat has only three or four players, one or more can be replaced on the bases by imaginary baserunners. If you hit a double with an invisible man on second, the invisible man scores. If you hit a single, he stops at third.
*Call your field–If you don't have three outfielders, the batter must declare which field he intents to hit to. If he calls left field and hits to right field, he's out. This makes up for a shortage of outfielders.
*Special ground rules as needed–What to do if the ball caroms off a tree or any piece of playground equipment, rolls into a mud puddle, etc.
Way back when, we invented new rules as needed, and refined our game so that baseball could be played one-on-one–just a pitcher, just a batter–as long as both players agreed to the imaginary parameters.
Later in life, in the men's softball league, I found players who came up through Little League to be whiners, complainers, prima donnas, always trying to build themselves up by undermining their teammates–and none of them could hit worth a damn. But when you have 24 kids on a team with room in the lineup for only nine at a time, and some adult deciding whom those nine shall be… it's a great inducement to concentrate more on politicking than on hitting.