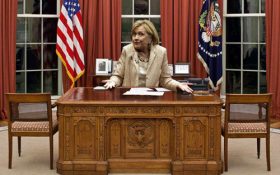 The moment any Democrat sets foot on foreign soil, he or she disses America. It's in their DNA; they can't control it. I don't mind that they travel a lot. I just mind that they come back.
The latest is Hillary Clinton, who's been mocking America from the safety of Venice, Italy (https://tammybruce.com/2019/09/sad-story-hillary-sits-at-mock-resolute-desk-reading-her-emails-at-venice-art-exhibit.html). As part of some kind of art exhibit, she sits at a fake Resolute Desk in a fake Oval Office, reading her leaked e-mails–60,000 pages worth.
This supposedly demonstrates that there was nothing in any of her Secretary of State e-mails that was at all sensitive, secret, dangerous, or simply not to be revealed. Smirking, the most corrupt woman in the northern hemisphere riffles the stack of papers and says, "They're just so boring!"
Oh–are they? If they are, then why did you go to such extraordinary lengths to delete them or destroy them? You even had some of your goons smashing hard drives with hammers. Plus it's a felony, for which others have had to go to prison, to handle classified material negligently–to say nothing of with a total disregard for anything even suggestive of security.
Anyway, there she is in a foreign country, laughing at America and yukking it up over the way she's gotten away with one crime after another. Haw, haw.
Can't we find some lawful way to banish her?