G'day, mates! Byron the Quokka here, with the latest update on our once-in-a-lifetime contest to see who posts Comment No. 50,000 on this blog. The winner gets an official and bona fide Quokka T-shirt! And maybe gets voted an honorary quokka, if I can do that without getting into trouble with the Head Quokka. His name is Ernest and he's gotten too big for his britches. But I digress.
So here's the news–only 428 comments to go! And here's what the prize looks like, if Lee doesn't forget how to post the picture.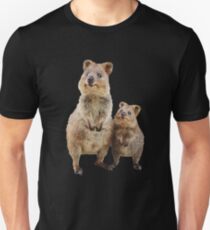 Well, it came out black, and we don't have a black T-shirt, just red or blue, but the poor cove did the best he could.