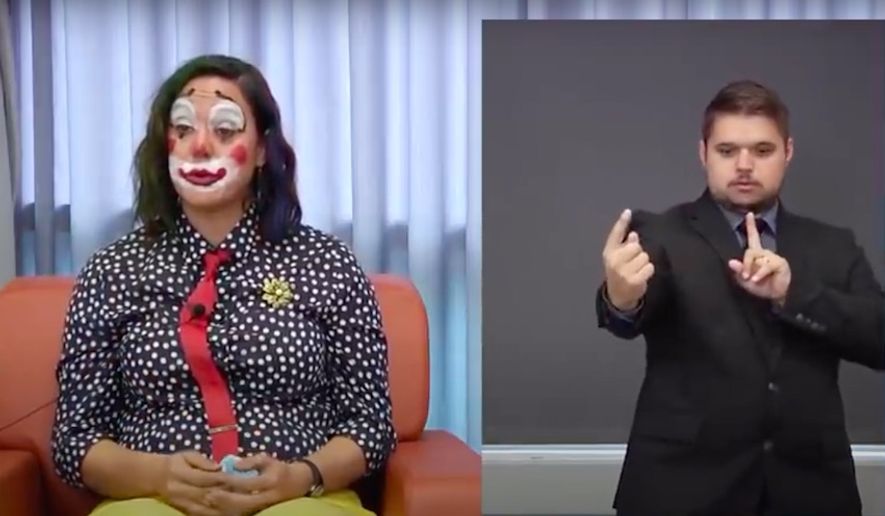 Yeesh, here's another one you're gonna think I made up–but I haven't. The damned thing is true.
Dr. Claire Poche, senior health adviser for the Oregon Health Authority, appeared on TV recently in clown makeup to report on… COVID deaths (https://www.independent.co.uk/news/world/americas/oregon-clown-coronavirus-deaths-costume-viral-twitter-b1405638.html). Yes, that's her in the photo.
The caper was supposed to be part of some kind of "safe Halloween" campaign. Well, that didn't quite come off, did it? Instead, it just looked crazy. Like people dying of the Chicom Doomsday Virus is a laughing matter, to be burlesqued by clowns.
One by one they ruin or cancel our holidays. And they laugh about it. And they're talking now about the need for a second national lockdown. Apparently the economic recovery numbers have made Science downhearted. Something about people not being poor and wretched really bugs the Fauci crowd.
Well, sometimes truth comes out of the mouths of liars. The other day it was Joe Biden bragging about his Democrats owning "the most extensive and inclusive voter fraud organization in the history of American politics." Now it's a public health official dressed as a clown to announce COVID deaths.
These people who want to be our rulers are nothing but our predators. And they think the suffering they cause is… funny.