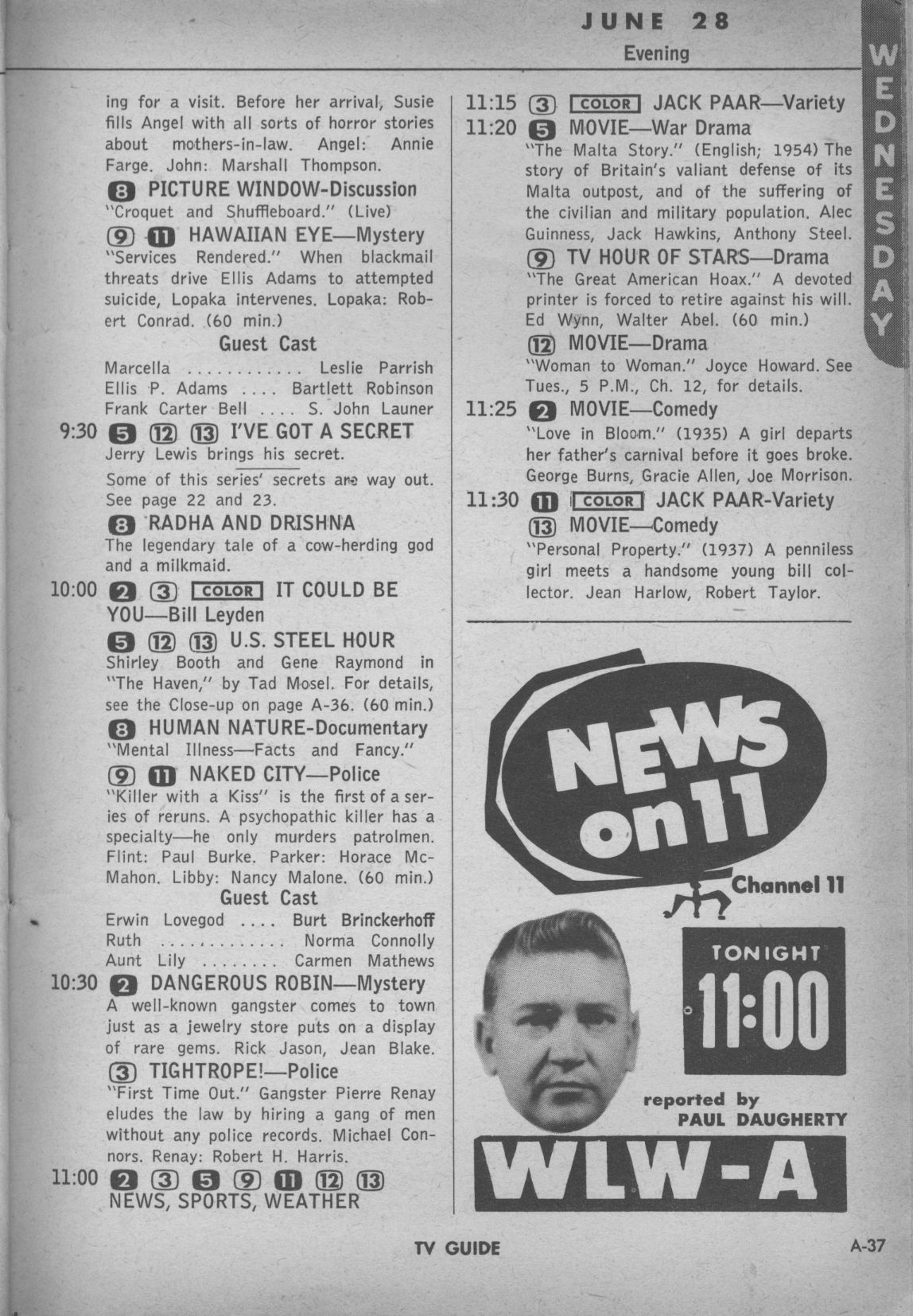 G'Day! Byron the Quokka here, with Quokka University's TV listings for the weekend. Are you craving something edifying, absorbing, rib-ticklingly hilarious, or butt-scratchingly suspenseful? Me, too. I wonder where you can get it. Meanwhile, there's this:
4:30 P.M.  02  03  BAKED NEWS (News & Cooking)
Make mint toothpaste cookies with Violet Crepuscular while the world stumbles into one crisis after another. Reporter: Cy Anara  Weather: Angela Merkel
05  OPEN END WITH GORILLA MONSOON–PUBLIC AFFAIRS
Join pro wrestling legend Gorilla Monsoon as he interviews this weekend's prominent news makers. Guests: Andre the Giant, S.D. "Special Delivery" Jones, "Nature Boy" Buddy Rodgers, Ohio Gov. John Kasich, and a newt.
4:48 P.M.  07  BEEN THERE, DONE THAT–TRAVEL
Harvey Yardarm visits Sayreville, New Jersey, and shows slides taken on the campus of Mr. Potato Head Community College.
5 P.M.  02  10  11  MOVIE–TRAGEDY/SUSPENSE
"One for the Money, Two for the Show" (1982)  The aging Bowery Boys are in for the scare of their lives when a Soviet spy (Mel Torme) hires the Chinese People's Army to wipe them out. Leo Gorcey, Huntz Hall.  General Hai: Oscar Levant.  General Lo: Walter Mondale. Music by F. Lee Baily and his orchestra.
12  13  NEURALGIA PATROL–POLICE
"I'm Sure It's My Sciatica!"  The Health Complaint Squad finds Mr. and Mrs. Muldoon (Clint Eastwood, Linda Hunt) a confusing mix of symptoms, and Dr. Twinkly (Abe Vigoda) is dangerously close to blowing his stack. Special guest star: Carl Yastrzemski as "the Beaver."
Well, that should be enough to get you started! And this is me high-tailing it out of here before somebody asks me where we got these shows.