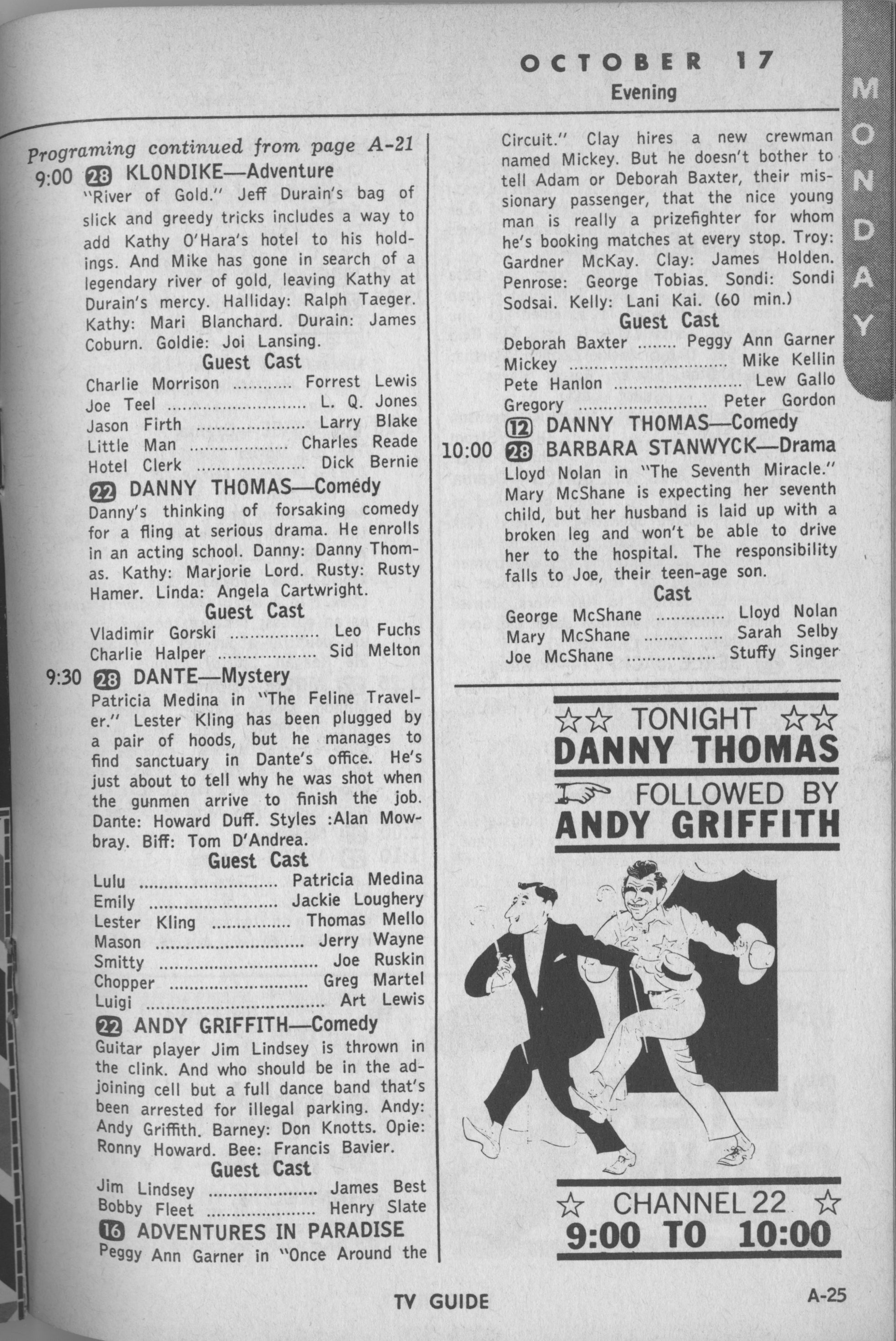 Well, well! Another weekend of fantastic TV shows that have failed everywhere but here at QUN, the Quokka University Network! I'm your host, Byron the Quokka, with a few sample shows to get you in the mood. Just don't ask us where we got them!
8:07 P.M.  Ch. 08   BUGS IN THE SADDLE–Western
The experts said a Western starring giant insects instead of cowboys would never succeed–and they were right, but watch it anyway! This week: An aphid drive organized by Ant Felicia (a giant ant) runs into trouble when the herd is blocked by a tribe of hostile Click Beetles. Special guest stars: the June Taylor Dancers.
8:15 P.M.  Ch. 11   DAVID CRUMPLE'S JOURNAL–News Analysis
What would happen if they held the next Nixon-Kennedy presidential debate underwater? David discusses the unlikely scenario with unemployed kook Jimbo "Crash" Kudzu and GOP strategist Max Detritus. Featuring Willie Sutton and his orchestra.
Ch. 27   I LOATHE LUCY–Sitcom
Lucy (Spring Byington) steals her neighbors' milk bottles and replaces them with jars filled with Frothee, inspiring them to get up a petition calling for her to be banished to isolated–and possibly haunted–Dead Man's Cave. Archie: Jim Backus. Little Irving: Boris Karloff.
8:30 P.M.  Ch. 16   WORKOUT! WITH WILLIAM CONRAD–Fitness
Join the star of Cannon as he puts celebrity guests (Shelly Winters, Dom DeLuise) and lucky studio audience members through a grueling round of jumping jacks, pushups, deep knee bends, and impossible yoga exercises while he keeps score and eats an enormous bowl of pasta and sausages.
Ch. 31  MOVIE–Adventure/Maudlin Sentimentalism
In "Trapped in the Jungle of Death" (1973), survivors of a small plane crash (Scatman Crothers, Joe Namath, Bette Davis, Elizabeth Montgomery) succumb to hopelessness and die off one by one–all except for a brash novelty salesman (Jamie Farr), who discovers a lost city of maniacs just 30 yards from the crash site. Siskel and Ebert called it "Incoherent nonsense"!
These are just a few of the standout shows we're bringing you this weekend. Settle down in the tall grass and binge-watch!