A Princess of Mars  by Edgar Rice Burroughs
(12 and up)
This was Edgar Rice Burroughs' first published book, two years ahead of Tarzan of the Apes. In it, John Carter, who is immortal, is transported to Mars.
Chock-full of adventure, action, and weird exotic settings, A Princess of Mars is remarkable, almost astonishing, for its vision of collectivism. The Green Martians are a communal culture. There's no private property, families have been abolished, the young are raised by the state… It's really quite horrible. That Burroughs was able to see this in 1912 is something to marvel over. The Green Martians have taken "It takes a village" to its logical end: and it's dreadful.
Two more books in Burroughs' Martian series deserve mention.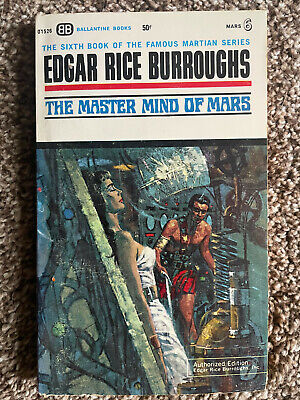 In The Master Mind of Mars, a genius scientist gets rich and famous by transplanting old brains, belonging to the rich and powerful, into healthy young bodies. Hmm… Think that could ever happen here?
In Synthetic Men of Mars, the master mind, forbidden to do any more brain transplants, now has a project for growing human body parts in a culture medium. I daresay this seems more of a possibility now than it did in 1939. The project develops some deeply serious problems which no one expected. By "deeply serious" I mean catastrophic. To say nothing of the malformed pseudo-humans, called "hormads," spontaneously generated by the culture media. They're part of the problem.
Warning: You could very easily get hooked on these books. Serious Mainstream Literature they're not. Great fun reads, they most surely are.
[Note: These covers go with the old Ballantine paperback editions of the 1960s, as found in my personal collection. There have been many editions and many different covers since. I just like these the best.]